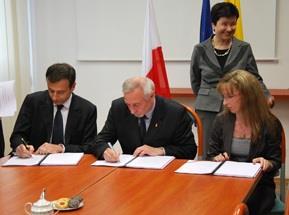 POLAND: Tramwaje Warszawskie signed a loan agreement with EBRD on May 11 which will provide up to 200m zloty towards the operator's 3·2bn zloty investment programme. EBRD will provide 50% from its own funds with the rest syndicated to commercial banks.

The programme includes buying 186 trams to replace part of the aging fleet, modernising 29 km of track and refurbishing tram stops. The new trams are already on order. In May 2009 TW awarded PESA Bydgoszcz a 1·5bn zloty order for 186 Type 120N low-floor trams, to be delivered between September this year and the end of 2013.

In September 2008 the city of Warszawa awarded a multi-year operating contract worth 16bn zloty to its wholly-owned subsidiary Tramwaje Warszawskie. This contract included 2bn zloty for new rolling stock and 5bn for track renewals and new lines. TW operates 34 tram routes on a standard gauge network totalling 124 route-km.

TW's total borrowing for the renewal project amounts to 1·9bn zloty, with the remaining funding provided by the EIB (920m zloty), the EU Cohesion Fund and the operator.

* Metro Warszawskie has issued a tender for 35 six-car trains for Line 2; bids are due by July 18. Delivery is to be completed by December 31 2013. Phase I of Warszawa's second metro line is due to open in 2013 with Phase II following in 2016.