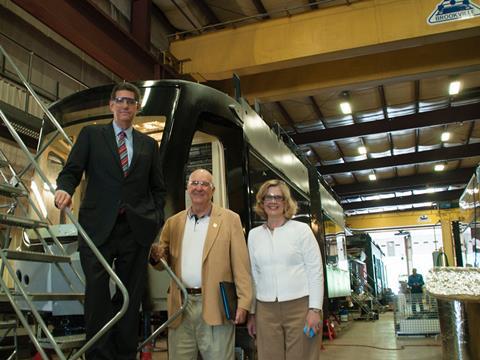 USA: Detroit light rail project promoter M-1 Rail has awarded Transdev a contract to operate and maintain the future Qline, which is under construction with opening planned for 2017.
The initial five-year contract is worth $15·5m, and is renewable for up to five more years. Ridership is estimated at 5 000 to 8 000 passengers/day.
'In selecting Transdev, we are bringing a premier international provider of streetcar operations services to Detroit', said M-1 Rail Chief Operating Officer Paul Childs on June 30. 'Our partnership with Transdev ensures the Qline will provide a safe, reliable and best-in-class transit experience for our ridership.'
The 5·3 km Qline will run along Woodward Avenue between Larned Street and Grand Boulevard, serving business, shopping and entertainment destinations, and connecting with the Downtown People Mover and bus networks.
Not-for-profit organisation M-1 Rail says this is the first major US public transport project to be led and funded by private businesses and philanthropic organisations, in partnership with local, state and the federal government.
Stacy & Witbeck is general contractor for the project, and in June 2015 M-1 Rail announced a $32m deal for Brookville Equipment Corp to supply six Liberty Modern Streetcars with lithium-ion batteries for catenary-free operation on around 60% of the route and a spur into the depot.