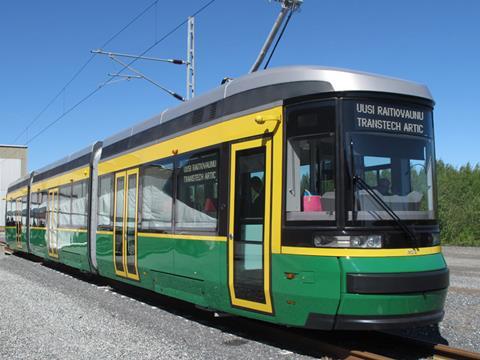 FINLAND: Minister of Transport Merja Kyllönen unveiled the first of Transtech's new trams for Helsinki at the manufacturer's Otanmäki factory on June 13. The three-section vehicle then carried guests on a 1 km test track.
The 100% low-floor car will arrive in Helsinki in the next few weeks. It will travel by trailer from Kajaani; the journey will take around 24 h. Once it has arrived, a month of test running on different routes will take place, and passenger service will begin in July or August. The second car will be completed a few months later.
These two cars will be used to test the suitability of the design before commencement of series production in 2015. Between then and 2018, 38 new vehicles are to be delivered to Helsinki.
The three-section trams will be 27·6 m long and 2 400 mm wide. They will have a capacity of 125 passengers, with 74 fixed and 14 folding seats. The maximum speed will be 80 km/h, and a freely pivoting bogie will allow them to deal with the tight curves of the metre-gauge network. The body materials have been chosen for easy maintenance in Helsinki's harsh climate. Environmental considerations lie behind LED lighting and a braking system that recovers some energy to cool the interior.