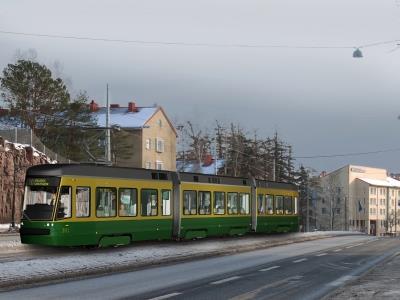 FINLAND: Helsinki transport operator HKL announced on December 2 that it had awarded a €113m contract for the supply of 40 three-section trams to domestic manufacturer Transtech Oy, with deliveries scheduled for 2014-15. The deal includes an option for another 90 cars that could continue production until 2023 and raise the total value of the order to between €250m and €300m.
The announcement follows a two-year decision-making process and a further year's delay. The new cars will be 27 m long, with 73 fixed and 14 folding seats plus standing room for a further 75 passengers and four wheelchairs. The first should be ready for testing in 2014 and enter service the following year.
Having been spun off from state-owned steel and machinery companies Rautaruukki and Valmet, Transtech was briefly a subsidiary of Talgo before being bought out by a Finnish private investment group in 2007. The company now has orders from VR and HKL that will keep its Otanmäki factory near Kajaani working until 2018 in an area of high unemployment.
The company employs around 400 staff in total, and CEO Markku Blomberg says the deal will secure its future for the next 10 years at least. He says the HKL contract is the biggest deal in the company's history and may require the recruitment of additional workers.
HKL says the decision to select Transtech over rival bids from Bombardier and CAF takes account of both cost and quality factors. Although Transtech has no previous experience of tram building, which may arouse suspicions from unsuccessful rivals and maybe Brussels, HKL stressed that the cars have been specifically designed to handle Finnish winter conditions – something which Bombardier's 40 Variotrams delivered between 1998 and 2003 have signally failed to do.
HKL has a fleet of 130 trams to operate its 91 km metre-gauge network, carrying around 200 000 passengers per day. It is currently lengthening the 42-strong second series of its 1980s-built Valmet-built cars with a low-floor centre section, but decided in 2006 to replace rather than refurbish the first 30 Valmet cars which date from the mid-1970s.