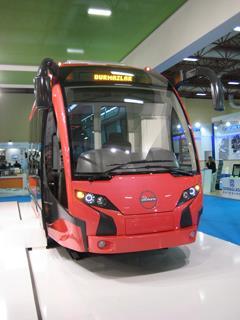 TURKEY: Bursa-based steel products supplier Durmazlar has completed production of a prototype 100% low-floor tram for its home city.
A full-size mock-up of the SilkWorm tram was displayed at the Eurasiarail trade show in Istanbul on March 8-10 on the stand which Durmazlar shared with Siemens. The SilkWorm uses traction equipment from Siemens' Combino family.
The prototype SilkWorm car is currently undergoing approval testing on a 150 m track at Durmazlar's factory. A production build of 14 five-module cars is envisaged to operate a 6 km standard gauge city centre ring line now being built in Bursa.
According to Project Director Taha Aydin, Durmazlar was keen to develop a locally-built light rail products that would be 'economical but not cheap' in order to respond to burgeoning demand from other Turkish cities.
Aydin also foresees a more formal alliance with Siemens, which is looking for a Turkish partner. The two are jointly developing a high-floor light rail car design for the planned extensions to the Bursaray network, which currently uses a mix of Bombardier Flexity Swift and Siemens cars assembled locally by Tuvasas. Up to 70 LRVs are likely to be needed for extensions that would take the network from 35 km to 80 km.