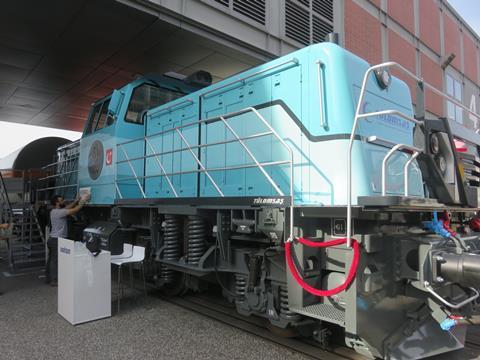 INNOTRANS: Turkish national freight operator TCDD Tasımacılık is to take delivery of up to 11 diesel-battery hybrid shunting locomotives if deployment of a prototype developed by Aselsan and Tülomsaş proves successful.
The two companies used the InnoTrans trade show in Berlin to introduce the hybrid loco, which has been extensively rebuilt from a legacy design widely used by TCDD. Only the underframe remains of the principal components, said Yetkin Telcı, Lead Engineer for Transportation & Energy Systems at Aselsan.
The two companies spent more than a year rebuilding the locomotive to provide three operating modes, diesel, combined diesel with battery and battery only. When running in hybrid mode, a computer-based traction control system blends the diesel and battery powerpacks without driver intervention.
The HSL-700 is rated at 700 kW and weighs 68 tonnes. The lithium ion battery pack is rated at 400 kW; maximum speed is 80 km/h. The loco is to undergo commissioning and running trials with TCDD Tasımacılık until at least mid-2019 before series production of two batches of five locos begins.