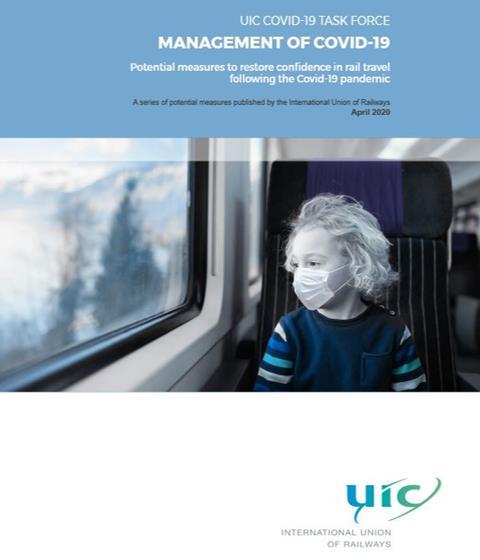 COVID-19: The International Union of Railways has published a summary of potential steps that could be adopted to increase customer confidence in rail transport following the coronavirus pandemic.
Drawing on experience from railways around the world, UIC says that to reassure travellers it will be necessary both to apply concrete measures to limit the risk of infection and to publicise them widely.
Bringing together railway stakeholders from Asia, Africa, Europe, the Middle East, Oceania and the Americas, UIC's Covid-19 taskforce has been acting as 'a trusted space' for member railways and other transport associations to share information about the crisis.
In order to develop more comprehensive guidance on restoring customer confidence following the Covid-19 pandemic, the task force is conducting a survey of its members, seeking to understand what measures that they intend to implement. This is due to be published as a guidance document in due course.
As the data is still being collected, UIC has produced an interim document outlining a range of potential steps that have been adopted in different parts of the world, notably Japan and South Korea, which could be applicable in Europe and elsewhere. This could include the use of masks, temperature monitoring, enhanced cleaning regimes and crowd control or social distancing.However, UIC cites JR East's experience that 'there is no such thing as a "perfect" measure' for combatting the spread of infection, and 'the best protection comes from combining several'.
In terms of communication, UIC's suggestions look at what messages should be given to reduce traveller anxiety, as well as where and how they are promoted.
Pointing out that it is not UIC's role to 'impose or recommend any given measure', Director-General François Davenne explained on April 30 that the document was only intended to highlight potential options that its members might wish to consider. 'Its contents shall be neither considered as definitive nor as requirements', he emphasised.
'These potential measures are provided as examples, and could evolve over time depending on changes to the risk level and on innovative measures which are not yet known. Measures listed here may to be used by railway stakeholders as they see fit and on their own responsibility.'
Websites
We are not responsible for the content of external sites