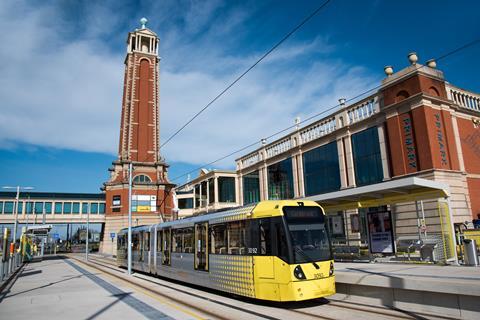 UK: 'We must plan our route to recovery', said Secretary of State for Transport Grant Shapps at the government's daily coronavirus briefing on May 23, when he announced £283m of funding 'to ensure that more buses, trams and light rail networks return to service' as the country moves to the next phase of the Covid-19 pandemic. He also said the government wants the country to come out of the pandemic stronger 'by permanently changing the way we use transport'.
Shapps said that while the provision of £254m for buses and £29m for light rail would allow an increase in services, there would be 'at best' a fifth of normal capacity while social distancing rules remain, and this did not mean 'we can go back to using public transport whenever we like'. Reminding the public to only use public transport if they need to travel and can't cycle, walk or drive, Shapps called on people needing to travel to 'avoid the rush hour'.
The funding is also expected to enable adjustments to vehicles, signage, more intensive cleaning and the provision of hand sanitiser.
The provision of £29m for light rail follows a previous 'time limited' package announced in April and backdated to mid-March which was intended to support operations for twelve weeks. This included:
Manchester Metrolink £11·6m;
Nottingham Express Transit £3·7m;
Midland Metro £2·1m;
Sheffield Supertram £1·3m;
Tyne & Wear Metro £8·6m.
Local transport managers suggested that the £29m would keep services running for two months, and while welcoming the government's support they stressed the need for longer term commitments.
Mayor of Greater Manchester Andy Burnham said the May 23 announcement 'gives us most of what we need to keep running Metrolink for the next two months and I would like to thank [Shapps] for listening to the concerns I have raised. Of course, concerns remain about what will happen from August. I believe the recovery process in cities like ours would be strengthened by having the ability to plan for the longer term. Last week, ministers announced a funding package for London that runs until October and I would encourage them to consider extending the timetable for Greater Manchester's deal in the same way.'
Burnham said 'we fully support the government's ambitions on creating more space for cycling and walking and welcome the additional funding that has been announced. The political consensus around prioritising active travel is becoming stronger by the day and this is emerging as one area where the country is set to build back better.'
Shapps also announced plans to bring in more marshals at railway stations from June 1 to join almost 3 500 British Transport Police officers, Network Rail and Transport for London staff currently advising passengers and monitoring social distancing.
Calling these volunteers 'Journey Makers', Shapps said that they would be resourced with the assistance of groups like the charity Volunteering Matters and suggested that they would be expected to show the same 'public spirited concern' as volunteer Games Makers at the London 2012 Olympics.
He concluded by suggesting that the government wants the UK to come out of the Covid-19 pandemic stronger 'by permanently changing the way we use transport', with plans being developed to allow people to park outside of city centres and finish their journey on bike or on foot.
As party of this he announced an investment of £2·5m to provide 1 180 cycle parking spaces at 30 stations across England to encourage people to incorporate cycling as part of a longer journey.