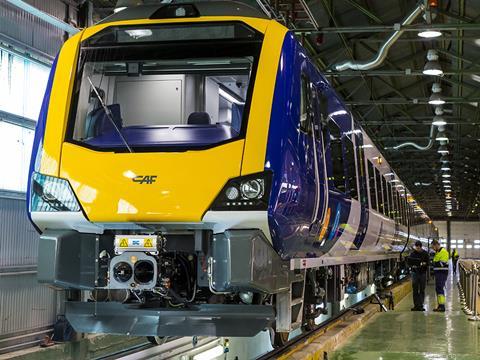 UK: The Transport for the North partnership of 19 local authorities, Network Rail, HS2 Ltd, Highways England and industry leaders is aiming to take 'a fresh approach to transport' in northern England now it has been formally launched, CEO Barry White told the All-Party Parliamentary Rail Group on May 15.
Public consultation on a draft 30-year Strategic Transport Plan closed on April 17, and Ipsos MORI is now reviewing the feedback ahead of the publication later this year of what will be 'an economic plan as much as a transport plan', White said.
A particular focus is on developing a transport network which would support 'employment liquidity', defined as making it easier for people to change jobs and lowering the risk of trying out new opportunities. White said London very successfully provides this liquidity, but in the north of England poor connectivity means people often feel they would need to move house to accept a job in another town, which creates a barrier that is holding back both employees and employers.
In the short term, TfN is 'co-managing' the TransPennine Express and Northern franchises with the Department for Transport, having had input into the franchise specifications even before it was put on a statutory basis. One of the most visible successes of this was the Secretary of State's decision to authorise the procurement of new rolling stock, which White said would mean the unloved ex-British Rail Pacer DMUs will go 'to scrap or museums' by the end of 2019.
The new fleets will increase capacity on the Manchester – Leeds corridor from 850 seats/hour to 2 000 seats/h in December 2019, White said.
Looking to the medium term, White said Secretary of State for Transport Chris Grayling was committed to the trans-Pennine route upgrade. The scope of the works is still to be confirmed, but while the focus is on the route from York and Selby to Leeds and Manchester, White said it would have major benefits as far as Newcastle. The combination of faster journeys and more intensive services would increase capacity to 3 000 seats/h, more than triple current levels.
The long term vision is branded Northern Powerhouse Rail, and would see a wider programme of upgrades to provide a network of more frequent, faster and longer trains linking the north's main cities. White emphasised that the focus is on developing a network to serve the polycentric region, not merely on getting more people into Leeds and Manchester. The aim is to vastly increase the number of people within a 'reasonable' 1 h commuting time from multiple cities, which TfN envisages could create an extra 850 000 jobs.
Manchester Airport is also a key location on the planned network, with White saying 'whatever shape Brexit looks like, international connectivity is going to be important'.
Responding to a question from Freightliner's Head of Rail Strategy Lindsay Durham, who said there were no trans-Pennine routes for container trains and a lack of paths for freight from ports to distribution centres, White said freight was also being 'very actively' considered under the strategy, although he needed to increase his understanding of the sector's needs. The potential reopening of the Skipton – Colne route could benefit freight, White suggested, while new loops would increase capacity on the Hope Valley route between Manchester and Sheffield and an 'old freight line' could be reopened to increase capacity between those cities.
White said TfN was currently 'working at breakneck speed' to prepare a high level plan for the cost, scope and business case for Northern Powerhouse Rail which will be submitted to the Secretary of State at the end of this year.
He stressed these would be 'high level concepts rather than detailed route options'. Speed is not an end in itself, White emphasised, and is often used in public discussion as a proxy for frequency and capacity. If you are going to build extra capacity, it makes sense to build for speed too, he believes.
While the projects in the final strategy would ultimately be subject to approval by the Secretary of State, 'we will decide in the North what options are right for the North', White stressed. 'Future generations will thank us'.