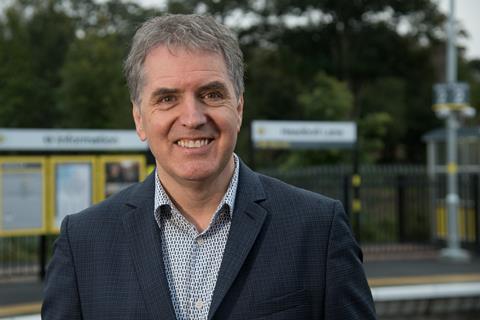 UK: Speaking to Rail Business UK at the opening of Headbolt Lane station in Kirkby, Liverpool City Region Mayor Steve Rotheram expressed enthusiasm for extending Merseyrail services to more destinations by using battery power to avoid the need for electrification.
Merseyrail trains reach Headbolt Lane using Stadler Class 777 electric multiple-units equipped with batteries to enable operation beyond the region's 750 V DC third rail electrified network. The extension will enable transport authority Merseytravel to evaluate the performance using battery power.
'The brilliant thing about trialling these new batteries isn't just to take us to Headbolt Lane, a mile down the line, but these can take us up to 40 miles [64 km]', Rotheram said on October 5.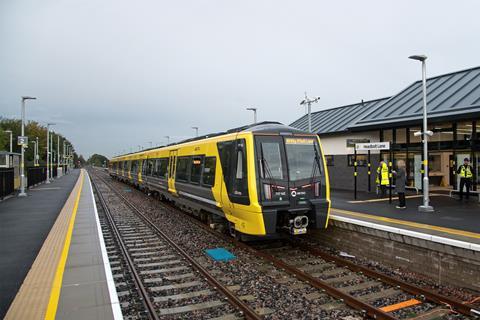 'I'd love to connect us up to places now that previously we couldn't because we needed the third rail. Skelmersdale would be a brilliant place for us because the people in Skem have always felt let down; this would not only get them onto our network to get to Liverpool but they could also join on to Northern and get to Manchester and Blackburn as well.' Serving Skelmersdale would require the construction of a new branch from the Kirkby – Wigan line, for which provision has been made as part of the construction of Headbolt Lane station.
He said 'we are already in discussions now with the government about when we can do this and bring in something we've called Merseyrail for All'.
Destinations for battery trains including Wrexham and Preston have also been suggested.
With the government indicating that money from the now-cancelled phases of High Speed 2 could be made available for improvements in the north, Rotheram is also keen to learn what this could mean for rail in the Liverpool City Region.
'We've been promised some money because of the distribution of the HS2 funding, so we're going to look at where we can best spend that', he said. 'There's lots of places in the city region that haven't got really good transport links, they certainly haven't got rail links, and we might be able to go to some of those places.'
He added that the local authorities were 'getting on with' development of the new Liverpool Baltic station, 'but there are four or five others that we've been working on for several years and now we might be able to do them. And with the battery technology we can now get to places like Widnes and all sorts of other places across the city region that previously we couldn't serve.'