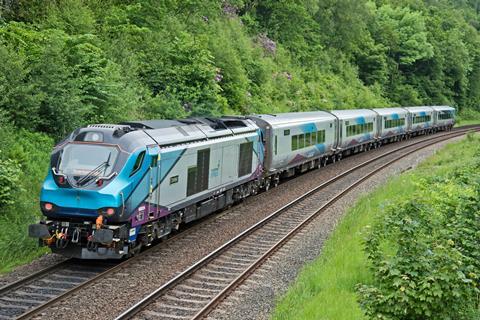 UK: TransPennine Express is seeking expressions of interest in the provision of between 15 and 30 bi-mode locomotives, with an option for a further five for use on Great Western Railway's Night Riviera sleeper service.
In its detailed specification TPE states that the 160 km/h locomotives must be capable of using 25 kV 50 Hz electrification with an alternative for contingency and operation on non-electrified routes.
A primary objective is to reduce the environmental impact of services, with bidders required to 'place heavy emphasis' on emissions and noise. The former would be satisfied by diesel engines compliant with European Stage V emissions standards, but the latter is clearly influenced by complaints received about the noise emitted by the Class 68 locomotives currently used by TPE, particularly when the load on the electric train supply increases. This has led to the company being forced to cease overnight maintenance at Scarbrough depot, and concerns over use on other routes.
The specification states the locomotives 'shall meet all NTSN standards in relation to noise, even with ETS active and supplying worst-case maximum electrical loads. Bidders shall also perform a test to ISO 3095 in respect of any locomotive noise sources including (but not limited to) those produced by the engine (and its exhaust equipment), cooling equipment, and any adjacent structural design features that may be sensitive to noise energy (reverberation through excitation at the element's natural frequency, for example).'
Bidders are also required to provide information on the loco design's impact on air quality, including air in the saloons of the coaches they will haul.
TPE Fleet Director Paul Staples said the Class 68s 'are reliable, powerful and flexible locomotives', but 'we want to explore options to operate these trains using more sustainable technology in the future'.
He added that the 'request for expressions of interest sets out to test the availability in the marketplace of bi-mode locomotives capable of running on either diesel or electricity, allowing our MkVa trains to take advantage of clean and efficient energy when operating on electrified sections of our routes. This is a very early step in a potential locomotive replacement programme, exploring what may be possible and viable, and we are very interested to hear from potential supply partners.'
TransPennine Express needs
Any TPE locomotives must be compatible with the existing five-car CAF MkVa rakes and able to interface with the push-pull driving cars, automatic selective door operation and passenger information systems. There should also be provision for the possible lengthening of the sets to seven cars.
TPE is seeking a supplier which will provide full maintenance, and where possible aligning with work on the coaches to minimise locomotive swaps.
The locomotives would be expected to be operate anywhere on the TPE network, but the fleet is expected to primarily operate on the following routes:
Liverpool via Warrington to Manchester, Sheffield and Cleethorpes;
Liverpool via Newton-le-Willows to Manchester, Huddersfield, Leeds, Hull or York and onto Scarborough, Newcastle or Middlesbrough, Redcar and Saltburn.
Some of the routes are electrified, and more are planned to wired be through the Trans-Pennine Route Upgrade programme, so the fleet will be able to make use of the 25 kV 50 Hz where available; however, the locos must be able to operate over non-electrified parts of the route without the need for refuelling part way through the daily diagrams.
'To cater for worst-case diagram duration and route', bidders are requested to assume a fuel range of up to 1 930 km under diesel power, and the locomotives must be able to meet the current timetable operated by the Class 68 and MkVa sets on both electric and non-electric power.
GWR requirements
Bidders must also provide an option to supply up to five locomotives for GWR's Night Riviera sleeper service, which is operated using rakes of up to nine MkIII coaches at approximately 344 tonnes tare mass and an ETS draw of 340 kW.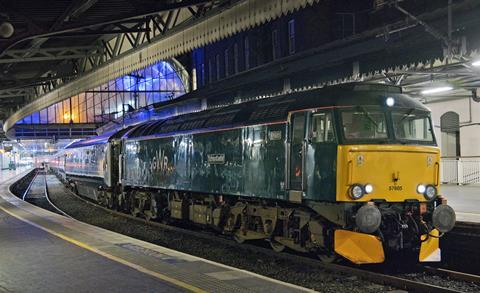 The route between London Paddington and Penzance includes the Dawlish sea wall and some challenging gradients, and the locomotives must have 'adequate brake retardation rates and systems to combat the adhesion issues on the route'.
The specification also notes 'it is desired to make a step change improvement on communications between the locomotive and coaches, and it would be preferable for the locomotive to be able to interface with the coaches for dispatch and alarm indications'. A technical support and spares supply agreement would be required with scheduled maintenance carried out by GWR's own staff at Reading and Long Rock depot in Penzance.
The locomotives must be able to meet the current timetable operated using Class 57 locos on both electric and non-electric power. Bidders are informed that whilst the GWR routes are electrified from London to Newbury and Bristol, 'there are no confirmed plans for any further electrification'.
Financing options
Potential financing options include direct lease from an existing operator or a financing agreement with a leasing company.
The duration of the TPE agreement would be is based on the expected length of the operator's National Rail Contract, but may be extended alongside the NRC and/or the contracting authority enters into a replacement contract.
If the option for the additional locomotives for GWR is exercised, it is anticipated that any agreement would also be for a duration aligned to the operator's NRC, but it could also be lengthened depending on any NRC extension or contract renewal for FirstGroup to operate the overnight train.