Recently appointed interim Managing Director of state-owned TransPennine Express, Chris Jackson tells Rail Business UK about his plans to revive the fortunes of the struggling operator.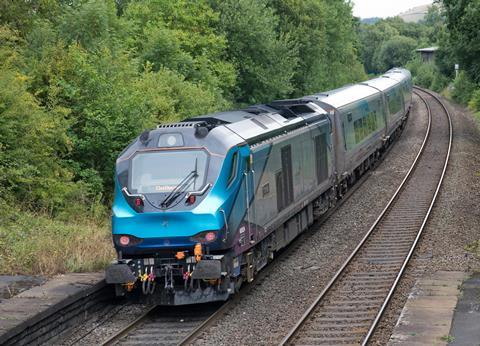 UK: 'We need to simplify our operations, TPE is far too complicated for the size of operation it is', explains Chris Jackson, interim Managing Director of TransPennine Express. Reflecting on his first few weeks in the role since TPE was transferred to DOHL — the government's operator of last resort — on May 28, Jackson believes a multi-stage process of business simplification is required.
TPE currently has 'four different types of traction, lots of diversionary routes, a significant number of outstanding training days and only 50% of the drivers signing all of the routes and the traction in their link'. This has been a significant factor in the poor reliability of the operator's services since as long ago as 2016, Jackson believes.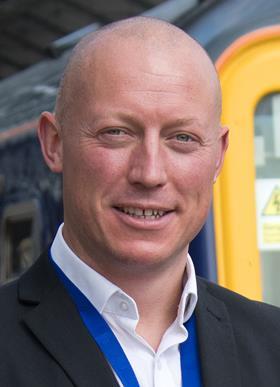 One major step towards restoring a viable service across TPE's extensive geography is the conclusion in early July of a Rest Day Working agreement with the principal rail unions. Rail Business UK understands that in monetary terms, the deal closely matches one previously proposed by TPE's former owner FirstGroup and rejected by the Department for Transport on cost grounds. However, the latest agreement between DOHL and TPE is understood to be slightly broader in scope, addressing other topics related to specific areas of dispute within TPE. The deal runs until the end of March 2024.
During that period, Jackson intends to undertake a full review of TPE operations ahead of presenting a number of proposals for the December 2023 timetable change.
'TPE is far too complicated for the size of operation it is'
This process has already led to an initial decision to abandon the use of Class 68-hauled push-pull trainsets on the southern trans-Pennine route between Cleethorpes and Liverpool via Sheffield and Manchester. These services will from July 31 be formed wholly of Siemens Class 185 DMUs in three- or six-car formations; the operator is to retain all 51 of these units, a reversal of plans developed since 2016 which had envisaged a significant proportion of the fleet going off-lease as TPE's more modern rolling stock was deployed.
Loco-haulage problem
Jackson is frank in recognising the problems caused by the adoption of the 13 loco-hauled trainsets, formed of Stadler Valencia-built Class 68 diesel locos and five CAF MkVa coaches including a driving trailer.
They have never reached a level of reliable squadron deployment, and the noise from the locomotives when idling has prompted a lot of complaints from people living near the routes.
'The 68s and MkVa sets have been a bit of a headache', Jackson acknowledges. 'Taking them into the fleet was the right decision at the time, but they are very noisy. My inbox is filled with complaints about noise and threats of legal action and so we are constrained over their use and stabling. In addition, the [crew] training profile isn't good and so many sets are parked up; on a good day we may see five out of 13 sets out in service.'
Jackson hopes the driver training situation could be mitigated when the trains are concentrated on the northern trans-Pennine route centred on Manchester and Leeds; more drivers on this corridor are trained on the 68 locos.
However, despite speculation across the industry, Jackson insists that there is no plan for TPE to cease using the push-pull sets completely, noting that the operator has to fulfil the cost of their lease until 2024. 'They are a good train and the customers like them; they have been an operational challenge for us, particularly with the noise issue but also the competency gap and that's what's really caused us problems.'
Cracks discovered
While Jackson is committed to retaining the loco-hauled sets for now, the discovery of cracking on some MkVa coaches on June 23 has posed an immediate challenge.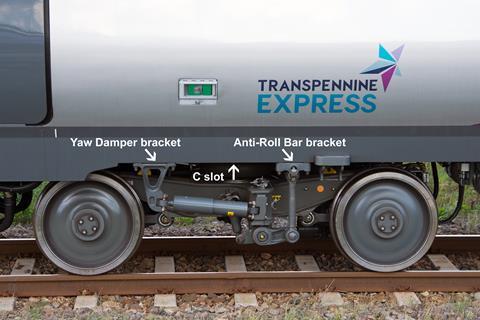 A formal pan-industry incident report notice was issued following discovery of a crack on set TP01. The cracks and related abnormalities were found on the so-called 'C slot' where the yaw dampers and anti-roll bars are attached to the vehicle body. The incident report stated that 'an abnormal narrowing of the C slot' was found at wheel 7/8 of vehicle 12707. Subsequent inspections of more of the trainsets uncovered one more crack at a C slot and two more cases where the component had failed a dimensional check as a result of the narrowing phenomenon.
Consultancy SNC-Lavalin was brought in to validate a process for moving one damaged trainset from TPE's Scarborough servicing point to its base at Manchester Longsight depot. The operator and its partners are now assessing how to manage the wider problem on an ongoing basis. In the meantime, the MkVa vehicles are being given enhanced inspections. It is understood that a temporary spreader plate fitted around the C slots on some of the Class 195 DMU fleet operated by Northern is being evaluated as an option to mitigate the effects of cracking on the MkVa as well.
Future service plan
Looking to the medium term, Jackson says that TPE's plan for the December 2023 timetable recast is now in development, in partnership with Transport for the North.
'We still have to make some bold decisions on the timetable and the fleet. We need to develop a timetable for December that is resilient, that delivers for our customers and allows us to do the training that we need but is also sympathetic to some of the challenges the business is facing', he says.
More encouragingly, Jackson reports that the deal to reinstate RDW is already bearing fruit, with performance 'seeing a strong bounce back', notwithstanding the impact of the national overtime bans being imposed by the ASLEF union in July and August. Front-line staff are 'delivering really strongly', he reports, suggesting that many feel 'a big weight has been lifted from them'. He is grateful to other operators including LNER, Northern, Avanti West Coast and CrossCountry for their assistance during long periods of disruption to TPE services over recent months. 'They have been really understanding and supportive, I thank them for that. It was a common-sense railway delivering for customers.'
'Myth' about driver numbers
Jackson is adamant that, with a viable RDW agreement now in place, TPE has enough traincrew to deliver its current timetable. However, many complexities remain, and he has initiated a 'deep dive' to assess future driver numbers and the level of 'churn' the company is seeing.
'There is a myth that needs to be busted; we are awaiting the deep dive feedback but a rough-cut of the data shows that we have the establishment needed to operate the timetable. We absolutely have enough drivers in the business.'
Rather than absolute numbers, TPE's challenge is crews' skill sets, he explains. 'While we have more drivers on paper than are needed to run the service, the drivers that are there don't have the requisite competency to drive all the routes and traction in their roster and that's what's causing the issue.'
'We absolutely have enough drivers in the business'
A competency and training gap has emerged over the past few years because the operator has regularly faced a choice between using all drivers to work service trains, for the benefit of passengers, or using some for training, which has a long-term benefit but exacerbates disruption in the short term.
Better resource planning needed
Complex traincrew plans were put in place at the start of FirstGroup's TransPennine Express franchise in 2016 and many still apply now. This means that many longer TPE services undertake multiple crew changes en route; in recent months, these have become extremely difficult to fulfil, prompting frequent cancellations, Jackson says. 'Complicated diagram paths with multiple traincrew reliefs only require one part to fall down and the result is a cancellation.'
Another exacerbation is the large volume of drivers who have left TPE in recent months, notably at the time the business was transferred into DOHL. Many have reportedly left for the freight sector, where wages are generally higher.
'Good luck to them, we can't stand in their way', Jackson admits, noting that TPE has more to do in resource planning to better manage this rate of churn. Looking ahead to the deployment of ERTMS on the East Coast Main Line in the next few years and the impact of Network Rail's Transpennine Route Upgrade work, Jackson says 'a significant requirement for diversions and new trains we will take on in the future will require an uplift in the establishment. That's why I want to see a five-year resource plan that clearly shows where we're going to be with productive drivers and recruitment to match the uplift needed.'