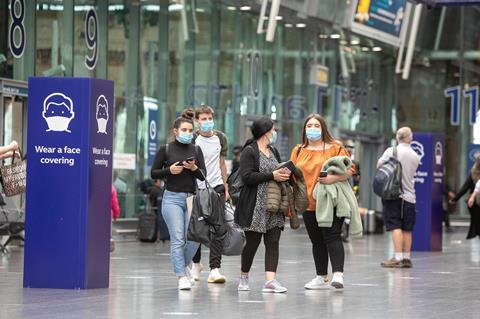 UK: Transport for the North and other regional stakeholders have reacted angrily to the Department for Transport's reduction of its budget for 2021-22 following the Comprehensive Spending Review, which includes an end to all funding for the Integrated & Smart Ticketing programme.
TfN's 2021-22 Funding and Business Plan, which Finance Director Iain Craven had presented to the board on January 14, showed that whilst it had been seeking £11·2m of core funding and £33·4m for further work on IST, the allocations proposed by DfT would be £6m and zero, with DfT indicating that TfN should develop plans to wind down the IST programme.
Cost-effective delivery model
The roll-out of contactless ticketing technology across northern England had been planned for 2021-22, covering around 1 000 bus services as well as trains and light rail networks which were used for more than 600 million journeys in 2019.
In a letter to TfN, DfT said the 2015 Spending Review had allocated up to £150m for IST, and this was due to expire at the end of the financial year. The most recent Spending Review does not include funding.
DfT said it would be 'considering cost-effective delivery models and funding streams to roll out PAYG to urban and regional commuter areas, including the north, as part of wider rail reforms'.
The indication that further IST work may be delivered centrally adds weight to recent industry discussions over a perceived desire within government to reduce the power of TfN and take control of spending and project delivery back to the national government.
This not only puts DfT and TfN at odds generally, but the news came only days after TfN's Rail North Committee agreed that faster delivery of IST as part of an overall fares review would be key to the recovery of rail travel following the Covid-19 pandemic.
Craven's report noted 'the current core funded run rate for 2021-22 is circa £9·3m, made up of £5·5m of staffing costs, £2·4m consultancy and other external support costs, and £1·4m of other costs (mainly accommodation and business infrastructure).' This rate is lower than was originally budgeted owing to steps taken to manage funding uncertainty and the impact of Covid-19.
He welcomed the decision to provide £75m to continue with the Northern Powerhouse Rail project, but noted that this has conditions attached and £8m must be allocated to work on High Speed 2.
There is also uncertainty over funding for the remainder of 2020-21, with Craven commenting 'it is not at this stage possible to confirm that TfN will receive £70m in 2021-22 as is stated in the DfT funding letter'.
Levelling up
During the TfN board meeting, civic and business leaders stated that the decision would threaten northern England's economic recovery.
After the meeting, Craven said the TfN board 'has clearly indicated its disappointment and concern that, a time when the government's levelling up agenda is needed most, funding is being cut, putting northern investment and jobs at risk. It falls substantially short of what we outlined the north would need to level-up infrastructure and accelerate benefits to the region.
'There is a real worry that this signals a diminishing ambition for the north, rather than pump-priming the region's economic recovery. Establishing Transport for the North was a symbolic moment for devolving power to northern leaders, one that fully supports the levelling-up agenda. Our members have clearly indicated the ambition that, over time, TfN should have a greater role and more oversight of investment, but the opposite is proposed.'
As well as seeing the winding down of TfN's Integrated & Smart Travel programme, the decision is also likely to lead to workforce reductions at TfN.
TfN is now in dialogue with the Department for Transport regarding the settlement.
Incredibly disappointing
In a letter to DfT Permanent Secretary Bernadette Kelly, TfN Chief Executive Barry White said the decision to cease funding IST was 'incredibly disappointing — particularly given the identification of key contactless initiatives that could be developed quickly and have been awaiting this funding decision for several months.'
He said 'as well as risking delay to such projects and the loss of knowledge and experience that we have accumulated within the programme team, this also represents a removal of circa £105m previously allocated to northern transport ticketing schemes'.
Railway Industry Association Chief Executive Darren Caplan said the uncertainty around TfN's budget and investment in schemes like Northern Powerhouse Rail would not help rail suppliers who were looking to plan and prepare for future work.
Justin Moss and Mike Hulme, Co-Chairs of Northern Rail Industry Leaders, said 'the north's rail industry stands ready to deliver the Trans Pennine Route Upgrade, HS2, Northern Powerhouse Rail, the digitalisation and decarbonisation of the network and much more for the benefit of those who use the network. But these businesses do need government to be clear about its policies and intentions, so it is vital the Integrated Rail Plan is published as swiftly as possible. The greater the visibility for rail businesses, the even more we can provide the region, in terms of efficient delivery, skills, innovation and investment.'