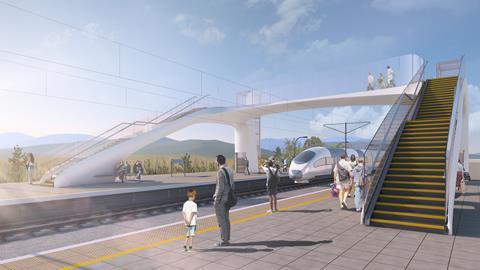 UK: Network Rail has become a Tier 1 member of the National Composites Centre as part of the Futura project to develop a composite footbridge based on a concept designed by Marks Barfield Architects and COWI.
A prototype is being developed to demonstrate the benefits that could be gained from using composites for both new build and replacement structures in station environments. This will use a standardised design with a set of adaptable components intended for simple and rapid precision assembly on-site.
'Composites offer huge benefits to construction, not least in their ability to be built using modern methods, as well as the cost-effective nature of their construction and installation', said NCC Chief Executive Richard Oldfield. 'They are a more sustainable solution, which will contribute to net-zero targets across the industry, and are an intrinsically safer and more aesthetically pleasing option.'
Ian Grimes, Principal Engineer at Network Rail, said 'the quicker installation and corrosion resistant nature of composites will mean less disruption and impact on passengers when we're installing and maintaining our assets.'
The first self-supporting FRP bridge installed by Network Rail was erected at St Austell in October 2007 Designed by Parsons Brinkerhoff as part of a pilot project, the three-span bridge was manufactured by Pipex (Plymouth) and installed by Edmund Nuttall. Birse Rail subsequently installed a footpath bridge over the Blackpool line at Bradkirk near Preston in 2009, which incorporated two 12 m spans manufactured from a SPRINT fire retardant woven glass/epoxy composite. NR's first FRP composite station footbridge was installed at Dawlish in 2011.