UK: An initial series of test runs using Class 387 EMUs equipped with ETCS on the Great Western Main Line has been completed, leasing company Porterbrook announced on April 3.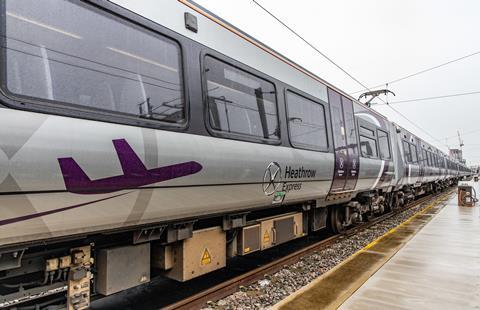 Using sections of the GWML east of Reading and the branch from Hayes & Harlington to Heathrow Airport, the tests were undertaken by Porterbrook and partners Bombardier, the Department for Transport, DB Cargo UK and Heathrow Airport Ltd. More than 10 test runs over the weekend of March 21-22 were undertaken to prove the functionality of the onboard hardware and software as well as related infrastructure assets.
A dedicated fleet of 12 four-car Class 387 EMUs is to be redeployed by operator Great Western Railway from Thames Valley commuter services to the airport shuttle. The trains are currently being refurbished by manufacturer Bombardier at its Ilford depot, where they are receiving bespoke interiors tailored to the needs of airport passengers.
Once ETCS Level 2 has been commissioned on the branch between Hayes & Harlington and the airport, expected later this year, the Class 387s will replace the Class 332 trainsets which have been used since the inception of Heathrow Express in 1998.
The Heathrow Express service is owned and managed by Heathrow Airport Ltd and is not part of the national franchising system. However, the airport company has outsourced train operations to GWR under a management contract running from 2018 to 2028. The Class 387 fleet will be maintained by GWR at its Reading depot.
'Notwithstanding these challenging times, we need to continue focusing on delivering key projects so that the railway is ready to support UK plc when the current situation stabilises', said Mary Grant, Chief Executive of Porterbrook. 'Introduction of an ETCS-fitted fleet on services to Heathrow is just such a project and will enable a service uplift to meet expected passenger numbers when the airport returns to its role as a key European aviation hub.'