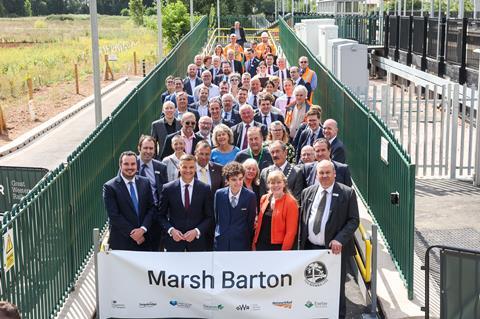 UK: Marsh Barton station in Exeter on the line to Newton Abbot opened to passengers on July 4, following an inauguration ceremony the previous day.
The £16m station was developed by Devon County Council in collaboration with Network Rail and GWR, with additional funding from the Department for Transport's New Stations Fund, Heart of the South West Local Enterprise Partnership, Exeter City Council and Teignbridge District Council.
The project 'presented several logistical challenges, but our innovative approach and strong working relationships enabled us to overcome them successfully', said Andrew Henry, Contracts Director at lead contractor Graham.
The station has two fully accessible platforms with ticket machines, smart ticket readers, live departure screens, waiting shelters and help points. The pedestrian overbridge has ramps for use by cyclists and to provide disabled access.
The station is served by hourly GWR services between Paignton and Exmouth, with additional trains at peak times.
'The station will provide access to one of the region's largest employment sites at Marsh Barton Industrial Estate, boosting the local economy and providing employment opportunities in the area', said Michelle Handforth, Managing Director of Network Rail's Wales & Western region. 'Leisure travellers and tourists will be able to make the most of sustainable access to cycle routes and walking trails through the station's close proximity to Riverside Valley Park.'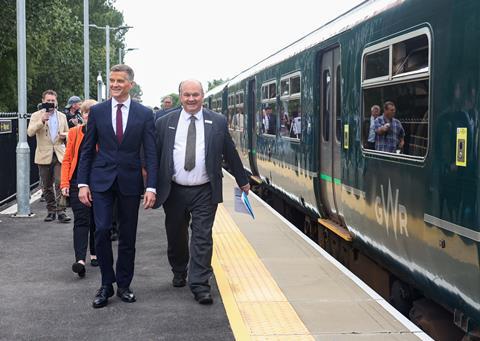 Marsh Barton is the second of three GWR stations opening this year, with Reading Green Park having opened in May and Portway Park & Ride on the Bristol – Severn Beach line to follow later this summer.
'New stations such as this are vital in bringing the railway closer to people as we become mindful of the need to live and travel more sustainably', said GWR Managing Director Mark Hopwood.
'Marsh Barton will help to ease congestion on some of Exeter's busiest roads and offer a more environmentally friendly option for those who normally drive into the area.'