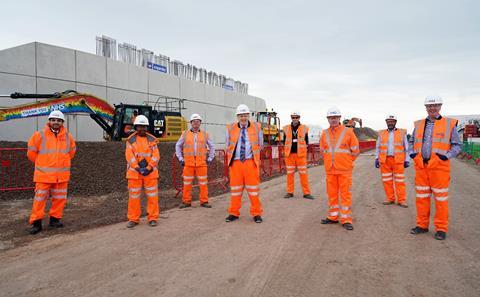 UK: HS2 Ltd has opened the second round of applications to join its Innovation Accelerator programme, seeking small and medium-sized firms specialising in process efficiencies and the passenger experience at stations. Entrepreneurs and tech specialists are invited to apply by September 18.
This follows the announcement of the five firms chosen from the 109 which applied to join the first round.
They will receive six months of commercial and technical support and rent-free working space to develop their technology, before pitching it to industry investors and HS2's supply chain.
The five selected companies are:
Buildots, which has developed wearable cameras that use artificial intelligence and computer vision to automate the tracking of build progress compared to the design and schedule.
Cloudcycle, which has developed technology to optimise the amount of concrete needed to build HS2. Sensors fitted inside cement mixer drums learn the properties of the concrete being mixed, and by enabling real time data management for reliable delivery could reduce concrete demand by up to 420 000 tonnes.
Dendra Systems aims to use drones to both plant and monitor seven million trees and shrubs on the corridor between the West Midlands and London. The AI would learn to identify the 46 tree species planted along the route and assess whether they are thriving or are in need of help such as improving land condition or invasive weed mitigation.
NatureMetrics has a biodiversity monitoring kit for monitoring the progress of the newly created woodland habitat. The technology sequences DNA into usable ecology information that shows the distribution of species across a landscape and tracks how habitats change throughout the project lifecycle.
Sensat has developed a cloud-based platform to capture, visualise and track infrastructure project data from anywhere in the world. Its 3D visualisation helps engineers collaborate remotely from any location, reducing the need for site visits.