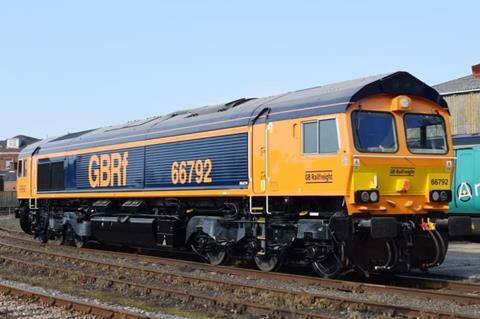 UK: Beacon Rail Leasing is to transfer five EMD Class 66 locomotives from Germany to the UK for use by GB Railfreight from early April 2021.
The first two, 29004 and 29005, which were previously operated by Heavy Haul Power International, have been delivered to EMD Doncaster for conversion to GBRf's specification and UK railway standards, with the remaining three to follow during 2021.
The modifications to be undertaken by EMD at its Doncaster and Longport facilities will include fitting air-conditioning, sound proofing, cab improvements including new double glazing, and installing GSM-R and TPWS. The locos will be painted in GBRf's livery, and numbered 66 793-97.
The first two locomotives are low-geared heavy haul 95 km/h locos, while the remaining three have a maximum speed of 120 km/h.
'Today's announcement is another important milestone for GB Railfreight's continued expansion as a company', said GBRf Managing Director John Smith ob October 8. 'Despite the economic uncertainty our country faces, GBRf leads the way with continued investment to put the UK economy back on track. We look to the future with optimism.'