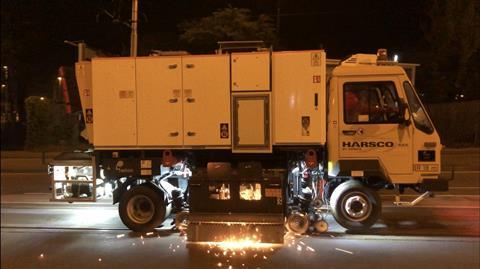 UK: Infrastructure maintenance company Harsco Rail and small plant manufacturer Möser Maschinenbau have joined forces to launch the Ro-V 149 road-rail grinding machine in the UK.
The grinding machine is aimed particularly at tram and light rail operators who in the past have generally relied on importing equipment from elsewhere in Europe. The distribution agreement between Harsco and Möser Maschinenbau means rail grinding can now be performed at much shorter notice.
The Ro-V 149 is suitable for use in urban areas, as noise emissions typically do not exceed 75 dB, and CO2 emissions are around 60 kg/h. The compact design enables the machine to operate within a restricted loading gauge; it can work while the adjacent track or road space remains open for traffic. Switching from road to rail mode takes less than 2 min. The machine can be adjusted to run on track gauges between 1 000 mm and 1 667 mm.
The Ro-V 149can be used for re-profiling as well as removing corrugation. It can also be used to grind turnout switches, check rail curves, grooved rail and road crossings.
The grinding unit has six independently adjustable spindles, which can be fitted with two types of grinding wheel. This allows work to be undertaken both on the groove bottom and on the check rails.
'This investment and deployment will be of huge benefit to the industry by reducing mobilisation cost and increasing flexibility', believes Dave Marsh, Director of Contracted Services & Service Fulfilment at Harsco Rail Ltd. 'Harsco Rail has invested in the grinder for its own contracted services business, and it will be supported by the well-established Harsco Rail UK Operations team.'
Technical data
Dimensions mm
5 152 x 2 020 x 2 577
Max weight kg
6 500
Max axleload on road kg
3 900
Max axleload rail kg
3 300
Max travel speed road km/h
20
Max travel speed rail km/h
20
Operating speed km/h
0 to 5