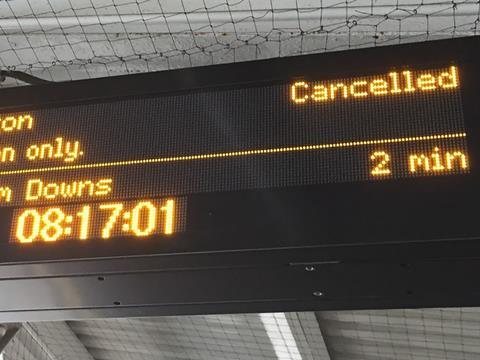 UK: Transport Focus has published a report into how train operators can improve 'do not travel' messages at times of major disruption.
The watchdog says its research has found that 'many passengers struggled with the whole notion that the railway runs trains but tells people not to use them', and says asking people not to travel must be an 'absolute last resort'.
The research was undertaken by Define Insight & Strategy.
The conclusions include:
passengers feel that the standard messaging is largely clear, but it needs to be in plain English and avoid jargon such as 'ticket easement';
saying 'do not travel' when trains are running can confuse and frustrate passengers;
the reasons for disruption should be made clear
some passengers will always try to make a journey in the face of disruption — they tend to feel that their journey is not deferrable, but different messaging can help change this by appealing to a sense of social responsibility;
the information that passengers require varies depending on they stage they have reached in their journey;
passengers should be told what the experience of travelling is likely to be.
'Passengers can be annoyed when they know trains are running but are told not to use them', said Transport Focus CEO Anthony Smith on August 24. 'The railway should reflect carefully on when it is right to say "do not travel". Passengers would rather be given the facts so they can make an informed decision.'
Websites
We are not responsible for the content of external sites