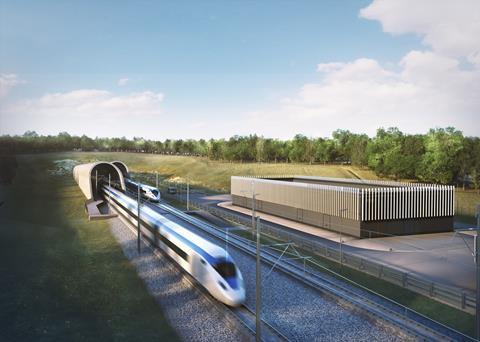 UK: The seventh annual First of a Kind railway technology development competition has opened, with £5·3m of Department for Transport funding available plus, for the first time, a further £1m from HS2 Ltd.
DfT is seeking proposals for innovations that could offer a better customer experience or more reliable services, while demonstrating innovation, cost efficiency and increasing value for money.
HS2 Ltd is looking for ways to automate the installation of tunnel components, signalling, slab track and cabling, as well as 'innovative thinking' on the deployment of multi-purpose electric vehicles to deliver equipment to worksites.
Applications for DfT's strand of the competition close on July 26, and for the HS2 strand on August 9.
'Every year this competition brings together the best and the brightest whose talent and ingenuity helps to solve problems we're facing and drive our railways forward', said Rail Minister Huw Merriman on June 14.
'This year we'll be bringing even more trailblazing projects to life by funding ideas which benefit the passenger, encourage efficiency and transform our rail network for the better.'
Almost £1·5m in additional funding is being awarded so that two of the FOAK 2022 winners can enter the second phase of testing. A Siemens Mobility project with the University of York, Network Rail, West Coast Main Line operators and Angel Trains aims to enable train batteries to be charged from standard local power supply cables. Wabtec is working with the University of Nottingham, Atkins SNC-Lavalin and Angel Trains to develop an axle-mounted motor to enable kinetic energy to be recovered during braking. It would then be used to provide power while accelerating, cutting diesel emissions in stations.