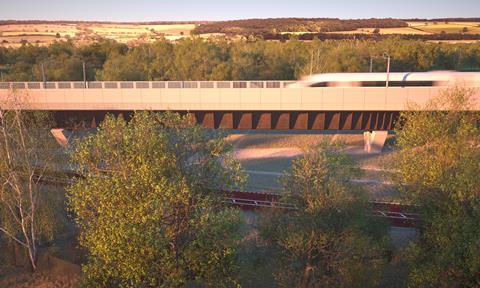 UK: In what HS2 Ltd says is a first for the construction industry, it has used Altair's OptiStruct aerospace and automotive design software to develop an automated civil engineering design process which it says can reduce embedded carbon in viaducts by up to 10% and shrink viaduct design time from around a month to one hour.
The technology takes operational requirements including the speed, frequency and braking load of trains and then runs millions of design iterations based on the physical properties of all the materials it will be built with, including concrete and steel, to produce an optimised design.
'Altair's design and optimisation technologies have been utilised across industry for over two decades', said the supplier's Senior Technical Specialist Martin Kemp.
'However, we seldom see them deployed on structures as large as rail viaducts due to rigorous codes of practice. HS2 was determined to remove the barriers to adoption by integrating European codes of practice directly into the optimisation process. The resulting capability brings cutting edge design and innovation to viaduct designers and opens further adoption in civil structure design.'
HS2 Ltd plans to mandate Altair's technology for designing viaducts and bridges on Phases 2a and 2b of the high speed rail programme.
'Our innovation project with Altair is a game-changer', said Tomas Garcia, HS2 Ltd's Head of Civil Engineering Structures. 'It gives engineers a tool to explore alternative designs that were not previously feasible due to time constraints.'