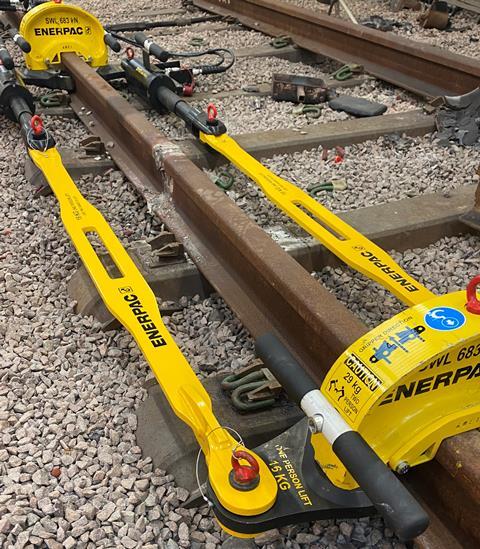 UK: Enerpac has obtained Network Rail approval for its RP-70A hydraulic rail stressor and ZC3-Series battery powered stressing pump, which are designed to be easier to transport and assemble and up to three times lighter than similar tools.
The kit is designed for railway maintenance crews who assemble and install the rail puller directly on site when adjusting the gap between rail ends for rail stressing, rail welding, repairing rail failures and servicing insulators.
The RP70A stressor uses modular components that can be assembled and installed on site without the need for tools, making preparation for rail stressing easier and safer. Assembly typically takes less than 2 min.
Each component is either a one or two person lift, including the ZC3-Series pump and hose set. The complete kit can be transported in an optional specially designed steel transport frame.
'For rail maintenance engineers faced with track that's inaccessible without the cost and delay of using a crane to install a fully assembled rail puller, the Enerpac RP70A is the perfect solution', says Patrick Frencken, Key Account Manager for North West Europe. 'What's more, when used in combination with an Enerpac ZC3-Series battery powered pump, you have a far greener and safer operation compared with a gas/petro-powered hydraulic pump.'