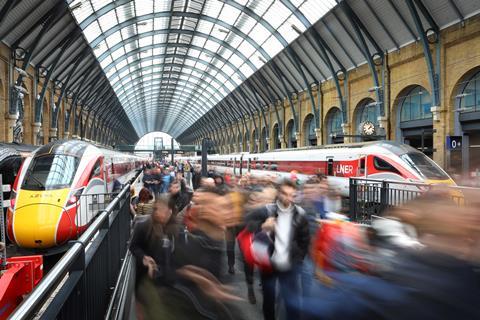 UK: The Equality & Human Rights Commission says LNER has taken steps to improve access for disabled passengers, following a legal challenge from a visually impaired customer who received inadequate support and assistance while travelling.
EHRC and LNER entered into an Equality Act 2010 Section 23 agreement three years ago under which the operator was required to improve its assisted travel service and to conduct fresh training on accessibility and inclusion for all customer-facing staff. It also agreed to set up new ways to monitor the assistance it provides, and learn lessons where needed.
LNER then established a disability access forum to generate further improvement initiatives. These have included a wheelchair space booking feature and a 24 h booking service for passenger assistance requests.
The Section 23 agreement was to run for 12 months from July 9 2020, but because of the pandemic it was paused from February 23 2021 to August 6 2021. EHRC then extended the agreement to March 4 2022, but because of the impact of Covid and industrial action, a further extension was agreed until September 1 2023.
On September 21, EHRC said it was now satisfied that LNER had a better understanding of the reasons why its assistance to disabled customers failed previously, and that the company had made the necessary changes to improve its services and facilities for disabled passengers.