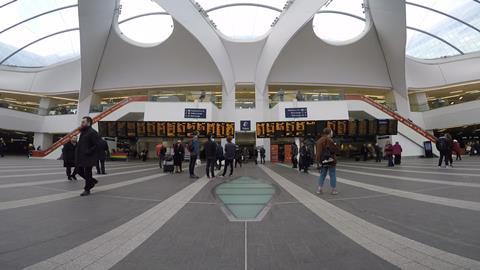 UK: Sub-national transport body Midlands Connect has set out its £3·5bn Midlands Engine Rail proposal for seven major projects which it says would 'revolutionise' the rail network in the East and West Midlands, helping to support sustainability, productivity and social mobility.
The seven projects are:
1) The £2·02bn Midlands Rail Hub proposal for 2022-33, which was submitted to the government in June. This would improve east–west connectivity with faster and more frequent services between Birmingham, Coventry, Leicester, Derby, Nottingham, Hereford, Worcester, the southwest and Wales, as well as adding paths for 72 extra freight trains/day;
2) A £150m Birmingham Airport Connectivity programme to be aligned with High Speed 2 Phase 1 which would provide extra services to Coventry and Birmingham International from Reading, Oxford, Banbury and Leamington, with new direct links to Birmingham International from Derby, Sheffield, York and Newcastle;
3) The £330m HS2 East Midlands Hub Connectivity programme to be aligned with HS2 Phase 2. This would provide links to the future HS2 hub at Toton, including four trains per hour from Leicester, Nottingham and Derby, and potentially services from Grantham, Newark, Loughborough, Matlock and Mansfield;
4) The Midlands Connect HS2 Conventional Compatible Services plan to be aligned with HS2 Phase 2. This would provide an hourly Bedford – Leicester – Toton – Leeds service using HS2 between Toton and Leeds, as well as an hourly Birmingham – Toton – Nottingham service cutting journey times between Birmingham and Nottingham by more than a half. This is estimated to cost £170m, plus £600m for electrification;
5) Faster and more frequent Derby – Stoke-on-Trent – Crewe services are proposed for introduction in 2022-33 at cost of £50m;
6) Faster and more frequent Birmingham – Wolverhampton – Shrewsbury services costed at £200m would support new housing development and access to jobs, with their introduction aligned with HS2 Phase 1;
7) Increasing Nottingham – Lincoln services from one to two trains/h, with a journey time reduction of 10 min. This is costed at £50m, with line speed improvements in 2022-26 and extra services aligned with HS2 Phase 2.
'In the Midlands, more people are travelling on the railways than ever before', said Sir John Peace, Chair of Midlands Connect. 'We now need investment from government to allow our people, businesses and infrastructure to reach their full potential, and to drive a further boost in passenger numbers. Midlands Engine Rail is essential in creating a more sustainable, productive and mobile Midlands.'