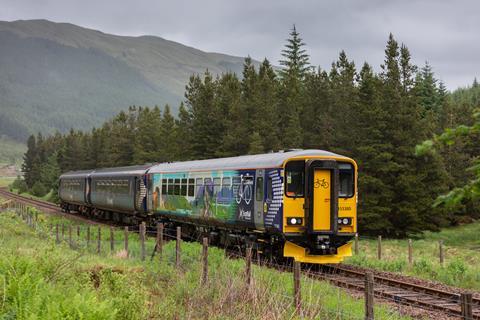 UK: Network Rail Scotland has published its £4·2bn Strategic Business Plan for Control Period 7, covering the five years from April 1 2024.
The document is NR's response to the Scottish government's High Level Output Statement, which detailed what it wants Scotland's Railway to deliver in 2024-29 and the Statement of Funds Available for operations, maintenance and renewals; these were both submitted to the Office of Rail & Road on January 27. Funding for network enhancements is being treated separately.
The Strategic Business Plan includes £1·9bn for renewals to improve safety and reliability, measures to increase resilience during extreme weather, greater use of technology, improvements to train performance, increased ridership and an 'ambitious but realistic target' of 8·7% growth in freight tonne-km.
NR notes that 'the economic and financial context underlying the preparation of this plan is unlike those facing many other control period planning exercises in the past', with high inflation and the 'volatility of the environment in which decisions on capital projects are having to be made'.
The infrastructure manager expects to take an 'affordability-driven approach to renewals expenditure', requiring a blend of full renewals and life-extending interventions. Contracting strategy will focus on embedding longer-term strategic partnerships with key suppliers, as well as identifying areas where work can be undertaken more efficiently by developing in-house capabilities.
'Our plan is ambitious and focuses on the needs of our customers while reflecting the necessity to deliver greater value for taxpayer money', explained Network Rail Scotland's Route Director Liam Sumpter when the plan was published on July 27.
The proposals will now be reviewed by the Office of Rail & Road, which is set to deliver its final determination on Network Rail's delivery and funding by October 31.
Noting that 'the new plan will need to be considered carefully', Railway Industry Association Scotland Chair Meirion Thomas said 'it comes at an important point for rail suppliers when freight and passenger numbers, and revenues, continue to head in the right direction post-pandemic'.