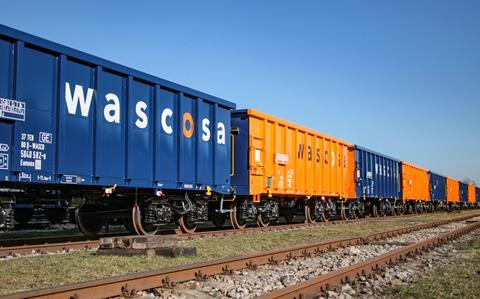 SWITZERLAND: Funds managed by Swiss Life Asset Managers and Vauban Infrastructure Partners have acquired wagon leasing company Wascosa from Philipp Müller and his family. The new owners said the 'highly attractive and resilient' rail market was benefiting from 'structural tailwinds driven by an increased modal share'.
Luzern-based Wascosa was founded in 1964 and now has a fleet of over 15 000 wagons, with 230 customers in more than 20 European countries.
At the end of 2021 Swiss Life Asset Managers and Vauban acquired an 88% stake in German wagon owner Aves One, which has Wascosa as a key commercial partner.
Announcing the transaction on June 21, Swiss Life Asset Managers and Vauban said they expect Wascosa to benefit from the strong momentum and favourable market outlook for European rail wagons, while they would bring their professional expertise in the rail and infrastructure markets. Müller has agreed to stay on as Chairman.
'With its leading industry position, strong brand recognition and growing business over the last decades, Wascosa is strategically positioned to contribute and benefit from the decarbonisation trends for freight transportation in Europe', said Christoph Bruguier, Senior Investment Director & Partner at Vauban Infrastructure Partners.
Christoph Manser, Head Infrastructure Equity International at Swiss Life Asset Managers, said 'the European rail sector represents an important part of our infrastructure portfolio and provides our investors with attractive investments with a focus on ESG. Wascosa is a highly innovative and leading pioneer in the industry. We are excited about the value creation opportunity Wascosa represents'.
Macquarie Capital and CA-CIB acted as joint financial advisers and Latham & Watkins acted as legal adviser to both Swiss Life Asset Managers and Vauban.