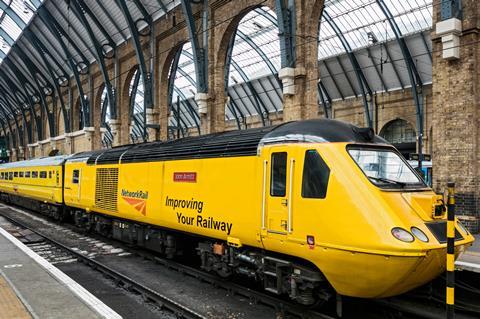 UK: Following a competitive tender, Network Rail has awarded Loram UK a £8m five-year contract to maintain its New Measurement Train.
The NMT was converted from a passenger trainset and can carry out infrastructure inspection at up to 200 km/h. It is to be maintained at Loram UK's Derby facility, where Network Rail's other infrastructure monitoring trains have been maintained since 2010.
'This contract simplifies the maintenance', said Mike Black, NR's Supply Chain Services director, on January 8. 'It will not only deliver savings to Network Rail and ultimately the taxpayer, but also ensure that the train is maintained to a high standard so it can continue to work for the safety of passengers and other railway users.'
Last month Loram UK completed a three-month project to overhaul the NMT's coaches as part of the infrastructure monitoring fleet operations contract.