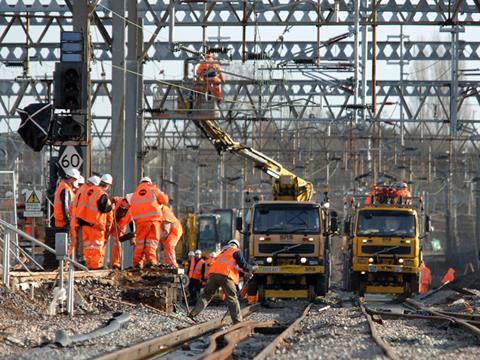 UK: The Office of Rail & Road has published its draft determination for the 2023 Periodic Review, setting out its assessment of Network Rail's plans to spend £40·0bn in England and Wales and £4·8bn in Scotland during the five-year Control Period 7 starting on April 1 2024.
ORR says that while Network Rail's plans largely deliver against the UK and Scottish governments' priorities, a greater focus is needed on train performance and renewing core assets such as track, structures and earthworks.
The regulator said it recognised that Network Rail's CP7 plans for England & Wales and the interim plan for Scotland, submitted in February, had been 'produced to challenging timescales and continue to evolve'.
However, ORR has asked for additional detail on certain key areas of the plans before publishing its final determination in October. This will take account of stakeholders' responses to its consultation on the draft determination, which is open for comments until August 31.
Performance: ORR intends to introduce specific targets for train performance that are more challenging than those suggested in Network Rail's plans; it also proposes that dedicated funding should be reserved to support further improvements in train performance.
Renewing the railway: ORR proposes that Network Rail increases spending on core assets by £600m. This would be funded by rephasing or reprioritising expenditure from areas ORR considers of lower importance.
Risk funding: ORR proposes an increase in the financial provisions for risk, so that Network Rail can respond to increased uncertainties such as severe weather and rapidly changing inflation. For England & Wales, ORR proposes that Network Rail should focus on a variant of its plan which releases significant funding for risk, taking the total risk provision to around £2bn. This would be funded within the published budget for CP7 and therefore would not require further support from government or higher charges.
For Scotland, Network Rail's interim plan proposed £206m of risk funding. ORR's assessment indicates that there is room within the budget to increase this by approximately £100m.
Efficiency: ORR says Network Rail's efficiency targets are 'stretching but achievable'. They would see it deliver at least £3·2bn of efficiencies in England & Wales and £0·4bn in Scotland.
Responding to the publication of the draft determination, Darren Caplan, Chief Executive of the Railway Industry Association, said it 'provides welcome detail on future plans and comes at an important point for rail suppliers'.
However, he warned that 'there is still wider uncertainty looming over rail policy, whether for example the lack of clarity over the timing of legislation to create Great British Railways, the fact an updated Rail Network Enhancements Pipeline has still not been published for three and a half years, or the absence of a clear plan for rolling stock in the second half of this decade'.