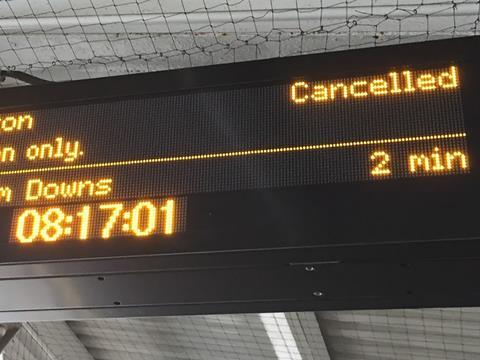 UK: The Office of Rail & Road says ticket retailers need to improve the clarity of messages notifying passengers of changes to train services they have advance bookings for.
The regulator also wants operators to consider offer more flexibility when trains are cancelled, to give passengers more choice and ease congestion.
The majority of operators have now implemented a system which enables notifications to be sent to ticket retailers (whether train companies, independent retailers or travel management companies) when trains are changed or cancelled more than 48 h before travel; Transport for Wales plans to implement the notification system by September, and ORR is working with c2c to ensure it meets the requirements.
Passengers who have booked online are sent an email or text notifying them of any changes to their service. However, ORR says its review of these notifications found they are often lacking information and clarity.
The regulator has written to all operators telling them to review the content of their notifications to ensure that they are clear and provide useful information, including setting out passengers' rights and options.
The regulator is also discussing the matter with independent retailers who are responsible for contacting their customers.
ORR says it would also like operators to consider their policies on ticket flexibility when trains are cancelled, to give greater choice for passengers.
It expects any necessary changes to the National Rail Conditions of Travel, retail systems or individual train operator policies to be progressed 'at pace'.
'A passenger who books their ticket in advance of travel needs to be treated fairly, not just offered a refund if the industry then changes its timetable nearer the date of travel', said Stephanie Tobyn, ORR Director of Strategy, Policy & Reform, on September 6.
The Rail Delivery Group said more than 2 million notifications have now been sent to alert people to a change to their journey, and 'this proactive approach by the industry has meant that customers are better informed about their journeys and are updated in a timely manner.'
Phase 2 of the Smarter Information, Smarter Journeys programme will ensure that trains that will not operate because of engineering works are suppressed from retailer websites, so that customers can be more confident that the train they are buying a ticket for will run.