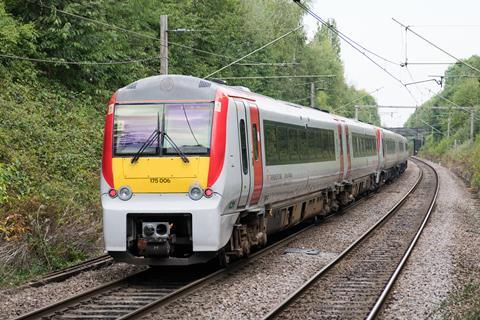 UK: Following a series of underbody fires, TfW Rail has stood down a significant proportion of its Class 175 diesel multiple-unit fleet from March 2 until each set has undergone an intensive cleaning process.
Chief Operations Officer Jan Chaudhry van der Velde and Engineering Director Ryan Williams used the term 'thermal incidents' rather than 'fires' in a message to staff issued on March 1.
This message said that 'although the long-term average rate of thermal events on the Class 175 fleet has not changed significantly from a statistical point of view, we've had three events in quick succession, and we understand that this will raise concerns'.
The most recent fires occurred at Gresford north of Wrexham on February 8, at Wilmslow on February 22 and on March 1 when 175007 was observed to be in difficulty at Wilmslow while working the 06.50 Crewe – Manchester service.
The message to staff said the matter is being dealt with 'as a matter of urgency'.
TfW Rail's engineering department, manufacturer Alstom and maintainer CAF have attributed the cause to debris, leaf litter and other contaminants building up in the engine areas. An ongoing campaign of specific engine bay cleaning was already in place for the Class 175s at Chester depot.
TfW Rail has now 'taken the decision that only the units that have been through this clean-up process will be allowed to enter passenger service' from March 2. Whilst this would impact on the availability of rolling stock, the view was that this was 'the right decision considering the balance of safety risks'.
A decision has also been taken to carry out extra inspections of the Class 175 engine bays at Cardiff Canton depot to check the quality and effectiveness of clean-up work.
On March 2 Rail Business UK observed that with just five Class 175 sets available for service, train diagrams had been amended on routes serving Cardiff and on the Cambrian Coast line in order to release DMUs to cover for the Class 175s.
The 27-strong fleet of 11 two-car and 16 three-car multiple-units was constructed by Alstom between 1999 and 2001, and at least 10 fire incidents were reported between 2004 and 2019.
After a troubled entry into service, the manufacturer admitted to some design flaws which created high temperatures under the vehicles; insiders report that the underbody skirts which dampen noise from the engines are thought to be contributory factors due to their impact on airflow underneath the vehicles.
The fleet is owned by Angel Trains and is now maintained by CAF at Chester Hoole Bridge depot, which the Spanish firm took over from Alstom on June 1 2022. This transfer is related to the entry into service of TfW's Class 197 DMUs, which are being supplied by CAF.