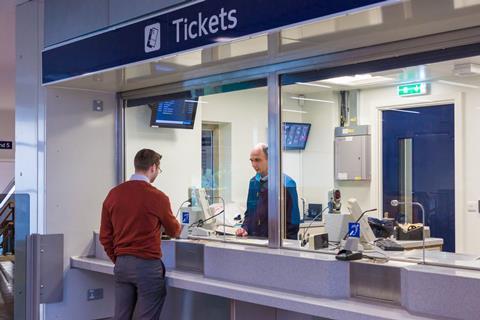 UK: More than 1 000 station ticket offices in England are at risk of closure as a result of the government amending guidance on changes to opening hours, a trade union has said.
'The rail industry has made no secret of its goal of closing all ticket offices, and the floodgates have now been opened for an annihilation', said RMT union General Secretary Mick Lynch on May 9.
'Ticket office staff not only enhance the passenger experience, but they ensure our railways are safe, secure and accessible', he said. 'Make no mistake, RMT is ready to use all means at our disposal to fight any attacks on ticket offices, we will be launching a widespread public and political campaign to protect ticket offices and our station staff members' jobs.'
The Department for Transport told Rail Business UK that the number of ticket offices remains similar to the 1990s, despite the number of tickets sold at offices falling from one in three 10 years ago to one in eight today, and staff do not have to be in ticket office to assist passengers.
'We need to take the rail industry off taxpayer life support', a spokesperson said. 'Staff will always provide face-to-face services on the railways, which can be crucial for those who need additional support and cannot, or do not want to, use contactless or mobile tickets.'
The Rail Delivery Group, which represents train operators, said that 'while no decisions have been taken over ticket offices, with the acceleration of changing travel patterns and more passengers migrating to digital technology, many jobs will need to change to become more passenger-centric. Train companies want to work with unions on how to address those changes, while making sure the industry takes no more than its fair share from the taxpayer.'