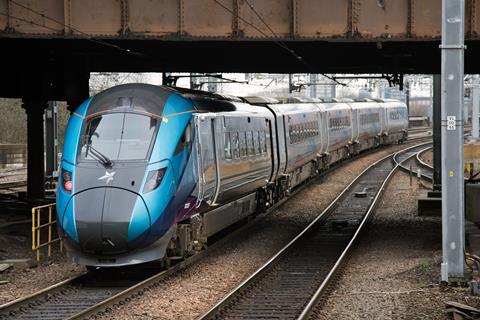 UK: Hitachi Rail, Angel Trains and TransPennine Express have agreed in principle to retrofit a traction battery to a five-car Class 802 Nova 1 electro-diesel trainset to create a tri-mode unit for trials.
The companies estimate that the replacement of one of the trainset's three diesel engines with batteries could cut fuel usage by at least 20%, supporting decarbonisation targets whilst also reducing noise and improving air quality in urban areas.
TPE's 19-strong Nova 1 fleet operates on routes across the Pennines where significant sections are still to be electrified, and the companies say that 'creating an electric-diesel-battery hybrid offers a fast and effective means of reducing carbon emissions' until wiring is completed.
Initially one Class 802 will be modified as an R&D project to help understand how best the battery module can be utilised.
A number of options exist, including enabling most diesel running to be done using two engines with the battery providing regenerative capability and a power boost during peak demand. Another option would be to use the battery to provide 'engines-off' operation in stations and urban approaches.
The intention is that the pilot module will be flexibly programmable to support different approaches to charging, including from overhead electrification, the diesel engines and during braking.
'The lessons we learn from the trial will inform plans for further deployment of the technology', TransPennine Express told Rail Business UK.
While infographics supplied by Hitachi suggest a battery-only range of around 5 km, this is still to be evaluated, and the data generated with just one of three engines replaced will also be used to determine what could be achieved with more.
The battery pack has been designed to be a like for like replacement for one of the trainset's underfloor generator units.
Operators of Hitachi bimode units still report frequent GU issues which see trains ending their daily diagram with one out of use. The removal of one GU will thus bring additional risks, and the operator said that while Hitachi and MTU have made huge progress with reliability, 'there is more to do and while the testing programme only calls for one train, we would need to be confident of the GU and battery system resilience before recommending it for wider deployment.'
The announcement on November 10 marks the start of the programme, and before the trainset is modified Hitachi, Angel Trains and TransPennine Express need to complete a range of planning work covering experiment design, engineering design, review and validation, operational planning and training, materials purchase and build. The aim is to begin trials next year, paving the way for the technology to be introduced onto the TPE network.
Planned increases in passenger services will increase the daily requirement for operating Class 802s, with the units also to scheduled take over TPE's Liverpool – Glasgow service via the West Coast Main Line from the December timetable change, but the operator is confident that there is space in the 'stop list' to support the project.
TransPennine Express told Rail Business UK 'everyone understands the benefit in researching this technology and how it could support efficiency and de-carbonisation of fleets of this nature', and successful completion of the trial would provide a pathway to develop plans to retrofit batteries to the wider fleet.'
Hitachi confirmed on November 10 that work is progressing on its similar project with Eversholt Rail to develop an electric-diesel-battery trainset for trials with Great Western Railway in 2022. A proof of concept and layout for the modification of a GWR Class 802 is 'in the final stages of approval', and work has started on construction of the 6 000 mm x 2 200 mm battery pack which will replace one of the diesel engines on a five car trainset. Fire safety tests have been undertaken to support the design and safety case for the battery, enabling system integration testing to take place at Hitachi's facility in Napoli, followed by combined testing in Japan next year. Manufacturing and fitment of the module for the GWR tri-mode trials will then be undertaken at Newton Aycliffe.