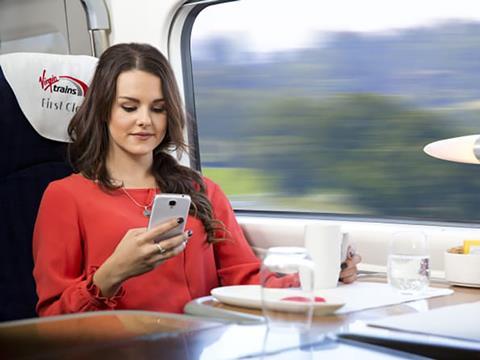 UK: Virgin Trains has worked with telecoms company Vodafone and mobile messaging specialist OpenMarket to roll out a Rich Communications Services-based chat service for passenger communications.
Unlike text-based SMS messages, RCS allows Virgin Trains to send photos, videos, audio and message with easy-to-select buttons.
It will initially be used to provide onward journey information to passengers travelling to London Euston. Chat messages are sent to customers' smartphones around 10 min before they arrive into the station, providing updates on onward London Underground services with a button within the message which users can tap to find out more detailed information.
There are three reasons why users will find the chat service an improvement on regular text messages, says OpenMarket CEO Jonathan Morgan. 'First, it makes completing even complex tasks such as providing feedback as easy as tapping a button', he said. 'Second, there is no need for third party apps as chat adds functionality in the native messaging inbox that consumers already use frequently. Third, message branding and verified sender information provide consumers with increased peace of mind.'
'We're very excited to be investing in new technology that will transform the way we communicate with our customers', said Virgin Trains Chief Information Officer John Sullivan. 'Chat messaging provides lots of opportunities. This is just the start and we look forward to developing our Chat service to further enhance the overall journey experience.'