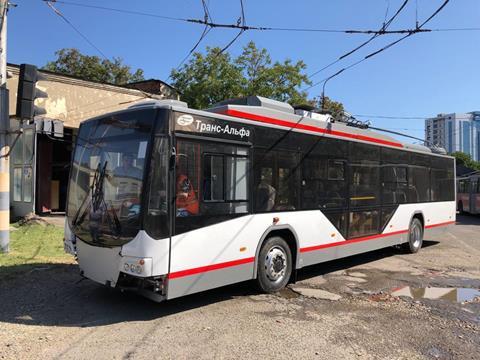 Khmelnitsky has taken delivery of the first of 10 trolleybuses that it ordered from Bogdan Motors The 100m hryvnia order includes five vehicles with traction batteries to enable up to 20 km of off-wire operation.
Krasnodar transport operator KTTU has taken delivery of the first of 12 trolleybuses that it ordered from Trans-Alpha. The 100% low-floor vehicles are equipped with traction batteries to enable up to 15 km of operation off-wire.
The Korea Development Institute has approved the development of GTX Line B in Seoul. Construction is due to begin in 2022 for opening in 2027.
Construction of Shenzhen metro Line 8 phase 2 and an eastern extension of Line 5 has started.
All-night weekend services have started running on some Istanbul metro lines.
ZUE has signed two contracts to maintain the Kraków tram network. A 56m złoty contract covers tracks and a 40·8m złoty contract cover the traction power network.
Solaris is to supply six electric buses and three chargers to MZK Konin and the same amount to MZK Ostrów Wielkopolski. Each order is worth 16m złoty.
Tracklaying has started for a tram extension in Plzeň.
DP Praha has awarded Metroprojekt a KC11m contract to prepare project documentation for a 500 m tram extension in Václavske Náměstí.
The Land of Bayern is providing €25m towards the purchase of metro trains and trams for Nürnberg.
Brakar has ordered 12 fast charging stations from Ekoenergetyka to charge battery buses operating in Drammen. The contract includes options for 13 more.
Siemens Mobility and Bytemark are developing a multi-modal journey planning and ticketing app for Columbus, Ohio.
The Foothill Gold Line Construction Authority awarded the main design-build contract for Los Angeles' Foothill Gold Line light rail extension to a joint venture of Kiewit and Parsons. The $805·6m contact covers the first phase of the eastern extension and includes an option for a further 5·3 km, two-station extension to Montclair.