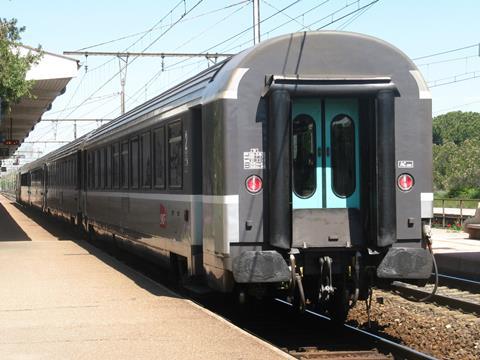 FRANCE: Urgent action is needed to save SNCF's network of conventional long-distance passenger services, says Philippe Duron in his foreword to a report on the future of these Trains d'Equilibre du Territoire, submitted to the government on May 26. Socialist MP for Calvados, Duron has presided over a committee of MPs and senators examining the issue at the request of Secretary of State for Transport Alain Vidalies, also including representatives of the Auvergne and Picardie regions and experts on transport and regional development.
The TET network funded by central government comprises 22 daytime and eight overnight routes, which as the report notes vary widely in character from Paris – Le Havre to long-distance inter-regional services such as Nantes – Lyon. This network 'no longer meets the transport needs of passengers and localities', says the report. A lack of investment, particularly in rolling stock where the fleet has not been renewed for over 30 years, has resulted in a decline in the quality of the service provided, with journey times increasing and punctuality declining.
At the same time, the taxpayer support required has reached 'unsustainable' levels, growing by 28% since 2012 to reach €0∙10 per passenger-km or a total of €780m in 2014, covering operating losses and track access charges. With the support per passenger varying widely across the TET network, the committee recommends that a detailed route-by-route analysis be undertaken to identify which services should be increased, reduced or transferred to road.
In its analysis of the 22 daytime routes, the report suggests that Caen – Tours, Clermont-Ferrand – Bordeaux, Toulouse – Hendaye and Clermont-Ferrand – Béziers could be transferred to road. Under a 'new paradigm' for the TET network, busier routes such as those connecting Paris with regional centres could be transferred to the responsibility of the region concerned, along with funding to cover the operating losses.
Pointing to the potential for increasing productivity and developing services, the report says that work should start now in preparation for domestic services being opened up to competition in 2019. The latter offers a real chance of breathing new life into these public services provided by the state, says the committee, which suggests that overnight TET services and potentially some daytime routes might be opened up to competition earlier in order to prepare SNCF Mobilités and other bodies for the new regime.
With the report now being considered by parliament, the government says that it is to present a multi-stage 'route map' for the future of TET services at the end of June. Including consultation with the regions, this will consider funding as well as regional development objectives.