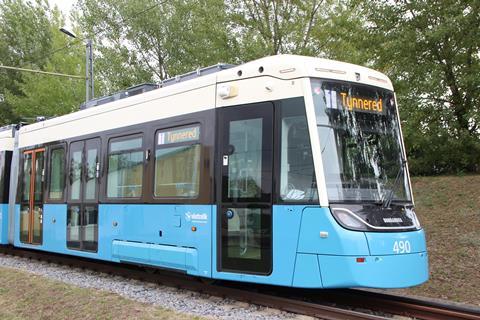 SWEDEN: The first of 40 Flexity trams ordered by Göteborg transport operator Göteborgs Spårvägar has been formally handed over by manufacturer Bombardier Transportation, following the completion of 8 000 km of test running.
Designed Type M33, the 30 unidirectional and 10 bidirectional trams were ordered from a consortium of Bombardier Transportation and Kiepe Electric in April 2016 at cost of €140m. Deliveries are scheduled to be completed in 2022, with the new vehicles gradually replacing the existing M28 and M29 trams.
The M33 is m long, with a maximum speed of 70 km/h and a capacity of 220 passengers. The low floor provides easy access, with an electromechanical boarding device provided to assist passengers using wheelchairs.
The design includes features developed to take into account suggestions from focus groups involving drivers, people with disabilities, maintenance staff and cleaners. These include large multifunctional areas to make movement around the vehicle easier for all passengers, and also to facilitate interior cleaning. Feedback from drivers resulted in ergonomic improvements to the cabs, and double glazing on all windows and doors to prevent condensation.
The Flexx bogies and Kiepe Electric traction system have been designed to improve energy efficiency and reduce maintenance costs.
Delivery of the first tram 'is a very important milestone in the development of the public transport system in the city', commented GS Project Manager Johan Henriksson on September 24. 'We have a very successful co-operation with Bombardier Transportation and Kiepe Electric and we are looking forward to receiving the remaining trams.'