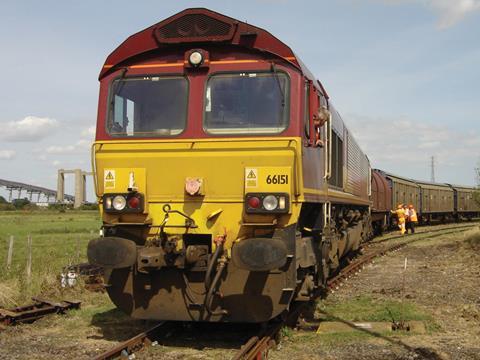 UK: Construction materials supplier Day Group has renewed for a further 10 years a contract for DB Cargo UK to haul sea-dredged aggregates and incinerator bottom ash.
The aggregates are transported from Cliffe in Kent to depots at Crawley, Purley, Tolworth and Battersea in London. The ash trains run from Newhaven to a processing facility at Brentford, then return to Newhaven carrying recycled aggregates in what DB Cargo says is an 'unusual two-way rail movement of bulk products'.
The contract renewal announced on November 9 covers the operation of more than 15 trains/week, which DB Cargo said was the equivalent of 190 lorry loads a day. There is provision for the operation of additional services, including to other concrete plants.
DB Cargo is converting high-capacity JUA and JTA iron ore tippler wagons for use on these services.
'The flexibility of DB Cargo to meet the changing requirements of the southeast construction market was key to the renewal of our contract', said Nick Sadler, Operations Director at Day Group.