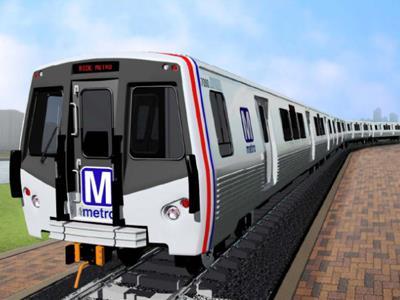 USA: Meeting on May 27 the board of Washington DC metro operator WMATA voted to approve a contract with Kawasaki Rail Car for 428 new vehicles, valued at $886m. Kawasaki was selected through a competitively negotiated procurement, and was judged to be offering the best overall technical proposal and the lowest cost. Award of a $1·48bn contract for up to 748 cars had been recommended at the board meeting in March, but the directors wanted more time to consider the proposal.
The deal is the largest single car order ever placed by WMATA. The Series 7000 cars are to be assembled at Kawasaki's plant in Lincoln, Nebraska, with the first pre-series vehicles due to arrive in Washington in 2013 for an intensive inspection and testing programme. All 428 are scheduled to be in service by 2016.
The first 128 cars are allocated for the metro extension to Dulles International Airport, and will be financed by that project. They will be delivered in batches of 64 for each of the two phases. The other 300 vehicles are intended to replace WMATA's oldest Series 1000 cars, built by defence contractor Rohr Industries between 1974 and 1978. These have been criticised by the National Transportation Safety Board for their structural weakness when subjected to dynamic forces in collisions.
'Today's award is significant because it allows us to address our top safety priority — retirement of the original Series 1000 rail cars, which are more than 30 years old', said Interim General Manager Richard Sarles.
The Series 7000 cars will incorporate crash energy management systems to improve safety. They will also have better passenger amenities such as more leg room for seated passengers, more handholds, LCD route maps, and resilient flooring instead of carpeting. The cars will be semi-permanently coupled in sets of four, whereas the existing stock is formed of married pairs.