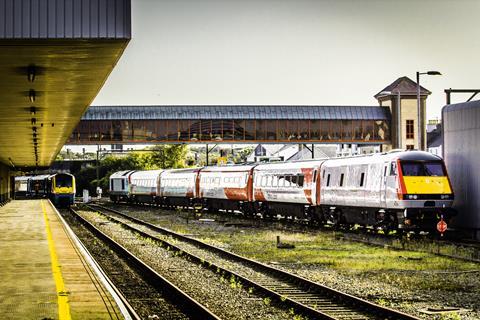 UK: TfW Rail has again revised its fleet strategy as it seeks to ensure passenger services can be improved despite the financial constraints caused by Covid-19, Managing Director Jan Chaudhry-van der Velde tells Rail Business UK.
The introduction of Mk IV coaches on the Holyhead – Cardiff inter-city service on June 7 forms part of a revised rolling stock strategy following the transition of TfW Rail into Welsh government ownership.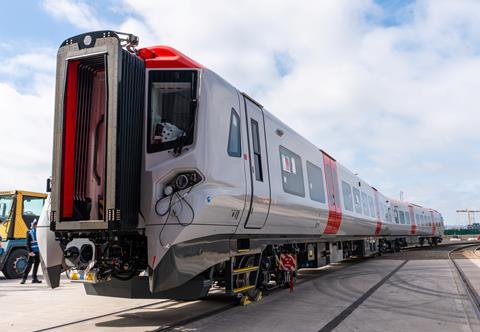 TfW's fleet of 12 Class 170 DMUs, transferred from Greater Anglia in 2019-20, will now be sub-leased to East Midlands Railway until the end of that operator's contract in what is expected to be a permanent move. Their release is being made possible by the acquisition of additional Mk IV loco-hauled sets from Arriva's Grand Central business, changes in the deployment plan for the new CAF Class 197 fleet, and the purchase of eight Class 153 single-car DMUs which are to be refurbished with full TSI PRM accessibility modifications for use on the Swansea – Shrewsbury Heart of Wales line. Meanwhile, the incoming Class 197s will be used on routes in west Wales previously expected to be covered by the Class 170 sets.
Chain reaction
According to Chaudry-van der Velde, TfW Rail finds itself at the heart of a complex chain of rolling stock transfers involving EMR and Northern; the latter requires at least five Class 156 DMUs to arrive from EMR ahead of the December 2021 timetable change. As a stop gap, Northern has itself retained a number of Class 153s, but these are not fully TSI PRM compliant and therefore their use is restricted.
This complex picture has emerged after the industry and government failed to release 20 Class 171 DMUs from Govia Thameslink Railway's Southern for use by EMR. The Department for Transport had approved this switch as part of the EMR franchise bid, despite there being no plan for replacement rolling stock to work GTR's non-electrified routes to Uckfield and Ashford.
Borderlands benefits
In North Wales meanwhile, crew training continues on the Vivarail Class 230 diesel-battery multiple-units which are due to take over the Wrexham Central to Bidston service later this year.
Three of the three-car sets, converted from ex-London Underground D78 cars, have now been delivered and the full fleet of five sets will enable the frequency on the route to be doubled to half-hourly.
'The trains are a good match between what they can deliver and what the market demands', says Chaudhry-van der Velde. 'I think that corridor is hugely underutilised throughout, with all those industrial units and Deeside and so on. From what I can see very few people use the train to get to their workplaces, so I think there is a big market to go at there once we can enhance the service.'
Pandemic impact
TfW Rail does not yet see Covid-19 as a major impediment to its schedules for bringing its new rolling stock into traffic, with two Stadler fleets to be delivered alongside the CAF and Vivarail trains.
Meanwhile infrastructure delivery partner KeolisAmey, which is leading on the electrification of the Core Valley lines for Transport for Wales, was able to bring forward some of its work during the lockdown periods.
Chaudhry-van der Velde confirms that TfW Rail has, like all operators, faced recruitment and training challenges during the pandemic.
'We lost quite a bit of training capacity during the first part of Covid, which has left us a bit short of drivers in some of the northern depots, but we've nearly caught up now.'
Bringing passengers back
A more significant challenge looms with planned timetable enhancements over the next few years, which will see more frequent services on many routes and will require TfW Rail not merely to stem the tide of staff retrenchment, but to grow the workforce.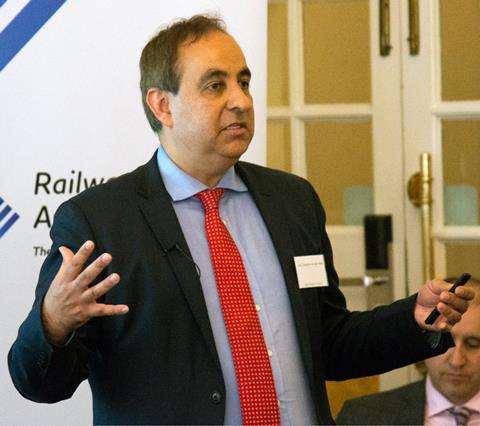 Chaudhry-van der Velde says the precise shape of future timetables will depend on the recovery of passenger numbers, which is under careful review.
'At its worst we were down to between 5% and 10% of normal demand; now on weekdays we're following the UK trend a little bit at around about 40%, with numbers creeping up every week', he reports. Many weekend services are much busier though, reflecting the high potential for using rail services to reach tourist destinations in Wales.
'Our service now is about 85% of pre-Covid', he adds. 'If society goes through another big reopening in June then I suspect that will have a very big impact, but if that gets moved back to a more cautious approach by the governments around the UK then I suspect demand will bubble up more slowly.'
Overall, Chaudhry-van der Velde sees the recovery falling into three phases.
'We've lost some ground in public transport, because people perceived it rightly or wrongly as being a higher risk than getting in their private cars'
'There's the immediate short term, which is about balancing supply and demand, making sure the workforce is comfortable with the rate at which we go back to normal.
'In the medium term, it's about creating stability, but also doing as much as possible to get back to the demand levels that we had before Covid-19. We've lost some ground in public transport, because people perceived it rightly or wrongly as being a higher risk than getting in their private cars.'
The final phase, he suggests, 'covers maybe the next two or three years, where we make sure we are really well organised around exploiting the investment that the Welsh government is making in all the new trains and the infrastructure enhancements, and doing that in a way that's continues to produce reliable services.'