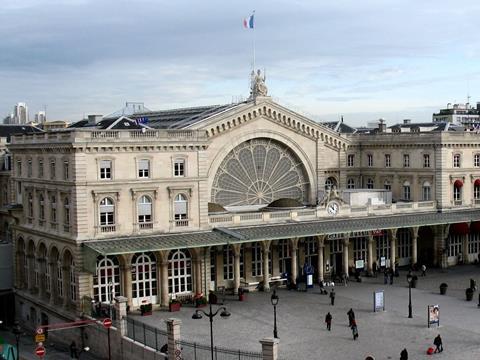 FRANCE: Transport authority Île-de-France Mobilités has outlined a 10-point package running until 2024 to rehabilitate the urban realm around Nord and Est stations in Paris, as well as improving access between them.
The €50m programme is intended to enhance the walking routes between the two stations, which using existing streets are approximately 500 m apart. The authority points out that in total 800 000 passengers/day use the two stations, as well as Magenta station on RER Line E which is located beneath Paris-Nord. More than 200 000 passengers use the stations to interchange between different rail or metro services. Several walking routes already exist between Nord and Est, but most involve busy urban streets used by heavy road traffic and the shortest route also includes stairs. Île-de-France Mobilités says these are 'difficult to use and hard to find'.
It is seeking to improve access by increasing the priority given to pedestrians in the streets around the stations, and by providing escalators to replace the steps at Escalier Monumental near Paris-Est.
In addition, the plans call for excavation of a pedestrian subway running from Magenta and the Rue d'Alsace to connect with an existing subway at Paris-Est. Platforms 5 to 12 would be served by lifts and escalators to provide a suitable route for people with reduced mobility.
According to Île-de-France Mobilités, once all 10 elements of the investment package have been delivered, the Nord-Est complex will form 'an integrated hub and a true gateway to the Île-de-France region'.