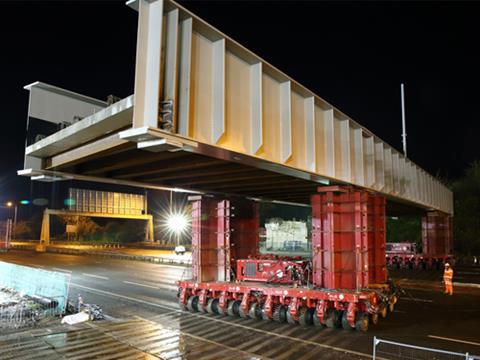 UK: The first of two 580 tonne bridges that will carry the Manchester Metrolink light rail extension to Manchester Airport was moved into place over the weekend of November 3-4. The structure was designed to be installed during a single 24 h closure of the over the M60 motorway, but contractor M-Pact Thales completed the work within 16 h.
'It's projects like this that really bring home the excitement of civil engineering', said Bryan Diggins, MPT Project Director. 'After months of preparation, the bridge move went like clockwork.'
The bridge comprises a single span steel through-deck structure supplied by Watsons, with reinforced concrete abutments. The superstructure was assembled by assembled by MPT next to the bridge site and moved into place from 70 m away using two 64-wheel self-propelled modular transporters. Brecknell Willis erected the electrification masts.
A closure of the M56 on November 24-25 will allow the second bridge to be installed.
The M-Pact Thales consortium of Laing O'Rourke, VolkerRail and Thales is responsible for building the 14·5 km Phase 3b Metrolink extension from St Werburgh's Road in Chorlton to Manchester Airport, which is scheduled to open in 2016.
Bridge in Brief
Substructure
3 000 tonnes of structural fill (stone)
1 030 m3 of concrete
134 tonnes of reinforcement
66 reinforced concrete piles, including 35 tonnes of reinforcement and 860 m3 of concrete (the M56 bridge will be founded on existing rock).
Superstructure
280 tonnes of structural steel beams
148 m3 of concrete
40 tonnes of reinforcement