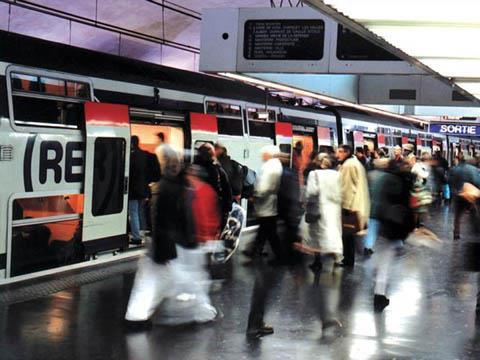 FRANCE: The President of the Ile-de-France region Jean-Paul Huchon was joined by the presidents of RATP, RFF, SNCF and the Mayor of Paris to unveil an ambitious regional transport vision for the next 12 years on June 19.
Huchon hopes to see investment of €13·7bn by 2020 on a series of projects to alleviate key pinch-points and meet rising demand. Recent criticism by President Sarkozy of the performance of RER Line A means that upgrading the suburban network to improve reliability will be a priority. Taken with the northern extension of metro Line 14 to Mairie de St-Ouen to relieve the congested Line 13, a budget of €4·1bn has been suggested (RG 11.06 p712).
A westerly extension of RER Line E is proposed from Saint-Lazare to La Défense at a cost of €1bn to meet demand from future office developments along this corridor. Huchon has also pledged to accelerate the €6bn ArcExpress suburban metro project which will see the construction of an east-south line across the edge of the city.
The proposals are due to be finalised over the summer, before a firm budget is agreed in the autumn. The Inter-ministerial Committee for Regional Planning & Competitiveness will make a final decision on approval at the start of next year.
H SNCF has pledged to invest €100m over the next 18 months to improve the reliability, punctuality and passenger environment of RER Line D. The operator hopes to reduce delays by between 33% and 50% by renewing infrastructure and through preventative rolling stock maintenance. It is also to spend €21m on improving passenger information.