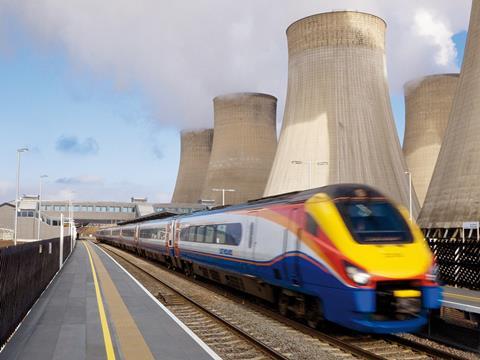 UK: Abellio, Arriva, incumbent Stagecoach and a joint venture of FirstGroup and Trenitalia are on the latest shortlist to receive invitations to tender for the next East Midlands franchise, Secretary of State for Transport Chris Grayling told parliament on February 5.
Abellio had not been included on the previous shortlist which had been announced by the Department for Transport on March 1 2017. Having expressed preliminary interest in the East Midlands contract, NS subsidiary Abellio had decided not bid because the resource-intensive process would overlap with similar bidding processes for other franchises. Go-Ahead is also understood to have opted not to bid.
However, DfT subsequently re-ran the shortlisting process, asking for new expressions of interest to be submitted in July 2017. The revised timescale reduced the overlaps between bidding processes, and as a result Abellio decided to re-enter the competition. DfT will now issue invitations to tender the the shortlisted bidders with a view to awarding the contract in April 2019, ready for the franchise to start in August 2019.
The East Midlands franchise incorporates inter-city services linking London St Pancras with Leicester, Nottingham, Derby and Sheffield, as well as network of regional routes. It has been operated by Stagecoach Group under the East Midlands Trains brand since 2007.
The revised franchising timescale accompanied the government's announcement on July 19 that it had cancelled planned 25 kV 50 Hz electrification of the Midland Main Line between Kettering, Nottingham and Sheffield.