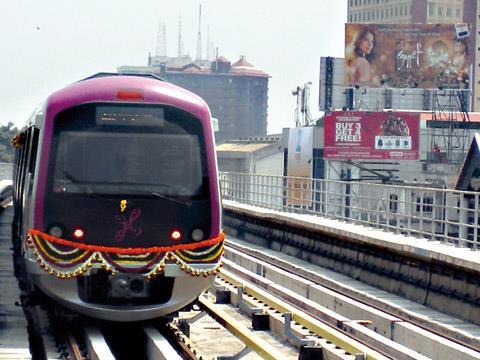 INDIA: Bangalore Metro Rail Corp Ltd and the Asian Development Bank signed a US$250m loan agreement for Phase II of the Namma Metro project on March 27.
'The loan represents a number of firsts for ADB in its partnership with India,' said ADB Country Director Hun Kim. 'This is the first ADB loan to the urban transport sector without recourse to sovereign guarantees'.
The ADB board approved the loan in March 2011. 'ADB support to BMRCL lends additional credibility to the project, especially in the financing model which has been jointly developed', said N Sivasailam, Managing Director of the metro development special purpose vehicle which is owned by the national and Karnataka state governments.
Two metro lines are being developed, with a long-term plan for four. The 6·7 km first phase of the 18·1 km east-west Purple Line opened in October 2011, and a 24·2 km north-south Green Line is under development.