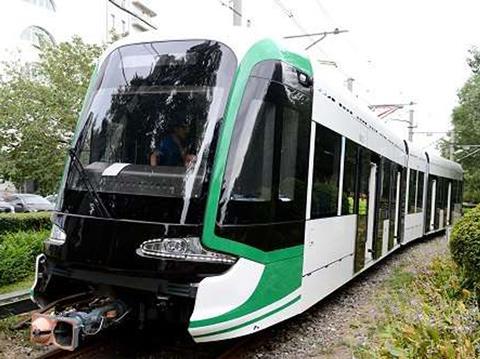 ETHIOPIA: The second light rail line in Addis Ababa opened on November 9. The 17·4 km Green Line has 22 stops. It runs east from Ayat to Tor Hailoch, sharing tracks with the north-south Blue Line on a 2·7 km, five-stop stretch between Lideta and Meskel Square.
The north-south Blue Line began revenue service on September 20, after a period of test running that started on February 1. The 16·9 km route links Menelik Square with Kaliti, serving 23 stops.
Both lines were built by China Railway Engineering Corp at a cost of US$475m, 85% funded by loans from Export-Import Bank of China.
Services are operated by a fleet of 41 three-section 70% low-floor trams supplied by CNR Changchun. Of these, up to 21 are to operate on the Green Line.