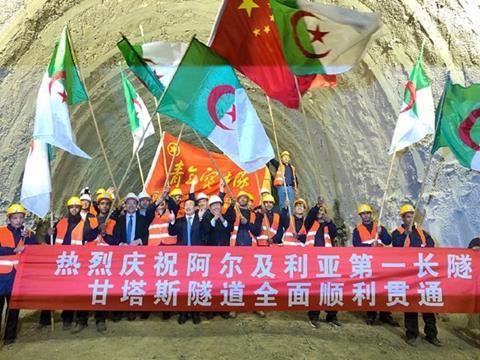 ALGERIA: Trains have started running through the El-Qantas tunnel, which has been built as part of an ongoing programme to upgrade the Alger – Oran main line for faster speeds.
Under construction since 2011, the 7·3 km twin-bore tunnel has been built for railway infrastructure authority ANESRIF by China Railway Construction Corp and its Turkish partner Ozgun Construction, with project management support from Systra and Poyry. Construction had been delayed by difficult geological conditions, but the bores were finally holed through in October 2017, and fitting out was completed by the end of 2018.
The second longest railway tunnel in Africa, the El-Qantas tunnel and the neighbouring 2·8 km Ramdane tunnel form the centrepiece of a project to realign and upgrade a 56 km section of the Alger – Oran route, running from El Affroun in the wilaya of Blida, approximately 100 km southwest of the capital, to Khemis-Miliana in the neighbouring wilaya of Ain Defla. The bores of both tunnels have been designed to accommodate the planned 25 kV 50 Hz electrification.
According to the Ministry of Transport & Public Works, increasing the maximum speeds to between 160 km/h and 220 km/h would enable national operator SNTF to reduce Alger – Oran journey times from the current 4 h 30 min to around 2 h 30 min. Since October 2017, inter-city services on the route have been worked by SNTF's Alstom-built Coradia Liner electro-diesel multiple-units which are designed to run at up to 220 km/h.
Read more about Algeria's rail expansion strategy in the June 2018 issue of Railway Gazette International magazine, available to subscribers in our digital archive.