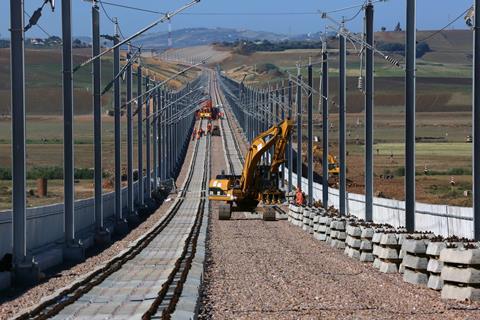 MOROCCO: Africa's first high speed railway is now expected to open for traffic by the end of the year as commissioning trials continue. LGV Maroc comprises a 183 km high speed line between Tanger and Kénitra which is being built for operation at up to 320 km/h, as well as 137 km of upgraded conventional line from Kénitra to Casablanca where trains will run at up to 220 km/h.
Having once targeted an opening in 2015, national railway ONCF had hoped to have the new line ready this summer, but a series of delays have pushed the launch date back. Among the causes of the hold-up is an area of subsidence over a 3 km section of the alignment south of Tanger caused by geological issues; the track is understood to have moved by a few centimetres.
Nevertheless, dynamic tests have been underway since February last year, which included a test run in May this year which reached 357 km/h, a new rail speed record for Africa. The training of 600 staff in partnership with French national operator SNCF is also on course. On June 19, formal approval was granted for testing to move into the simulated operation phase, with a view to a team of auditors signing off the railway as fit for operation in accordance with UIC standards in the weeks ahead.
Four stations are being built or heavily remodelled for high speed services; these are Tanger, Kénitra, Rabat-Agdal and Casa-Voyageurs. The Casablanca station is on course to open later this summer, covering a 10 000 m2 area and with capacity for 20 million passengers per annum compared to 7 million for the existing station, which ONCF plans to redevelop as a museum. ONCF says that the other three facilities 'will be ready alongside the opening of the railway'.
King Mohammed VI has chosen the name 'Al Boraq' as a brand for the high speed service; it represents a mythical winged beast synonymous with speed and travel. ONCF is to launch a competition to create a logo for the brand, while the operator says that a decision on the commercial arrangements for high speed services 'is in the final stages of being agreed'.