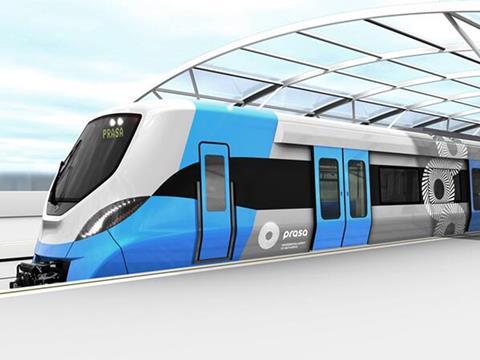 SOUTH AFRICA: Passenger Rail Agency of South Africa and the Alstom-led Gibela joint venture signed a R51bn contract for the supply of 3 600 electric multiple-unit cars on October 14.
These will form 600 trainsets to be delivered in 2015-25. In addition, Gibela will provide technical support and spare parts over an 18-year period.
The contract was signed by PRASA Group CEO Lucky Montana, Alstom Chairman & CEO Patrick Kron and Alstom Transport President Henri Poupart-Lafarge in conjunction with a visit to South Africa by French president François Hollande.
Largest ever contract
Alstom says it is the largest rolling stock contract that the company has ever been awarded. The parties anticipate reaching financial close by the end of December.
Gibela was selected in December 2012 for the first half of an ambitious programme launched in 2010 to renew and enlarge the Metrorail fleet of suburban EMUs. Over the next 20 years PRASA expects to acquire 1 200 EMUs to replace the ageing suburban trains in service in Pretoria, Johannesburg, Cape Town and Durban.
The package also envisages replacement of loco-hauled coaches used on long-distance services, bringing the total to 7 224 vehicles at an estimated cost of R123bn.
To revitalise South Africa's domestic rail industry, Gibela is to build an assembly plant at Ekurhuleni, east of Johannesburg, which will also house an engineering centre and training facility. Construction is scheduled to start in early 2014, with the plant to start production in 2015. According to Alstom, the project will create over 1 500 direct jobs and 33 000 indirect jobs over the first 10 years, achieving a local-content level of over 65%.
Meanwhile, the first 20 trains will be manufactured at Lapa in Brazil, with components and support from Alstom's French facilities at Ornans, Tarbes, Villeurbanne and Saint-Ouen.
X'Trapolis Mega
The 1 067 mm gauge X'Trapolis Mega trainsets are derived from Alstom's X'Trapolis family. Designed to run at up to 120 km/h, the stainless steel-bodied single-deck trains will be capable of upgrading for 160 km/h. PRASA will be able to operate a mix of four-car and six car trainsets in multiple, with a six-car set able to carry more than 1 300 passengers.
The air-conditioned EMUs will have ergonomic seats, real-time information systems and wi-fi internet access. Improved door systems will provide better accessibility for passengers with reduced mobility, and full-width gangways will improve passenger distribution along the train.
Montana said the fleet renewal programme was 'the catalyst for the transformation of Metrorail services and public transport in South Africa as a whole', adding that 'while the urgent challenge to improve passenger services remains primary, the rolling stock programme has been designed to achieve government's objectives of developing skills, creating jobs and delivering quality services'.