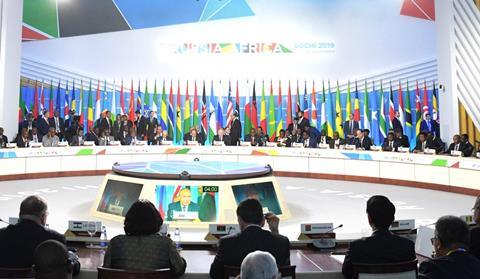 AFRICA: A number of agreements for Russian co-operation in railway development were signed at the inaugural Russia-Africa Summit in Sochi on October 23-24, where 54 African countries were represented with 43 heads of state or government attending.
Africa 'provides unique opportunities for railway development', First Deputy CEO of Russian Railways Alexander Misharin told attendees. 'Apart from technology and project solutions we are ready to provide financial tools', he said. 'Those include state guarantees, public-private partnerships and various types of concessions. These are the mechanisms that will allow to introduce large-scale projects.'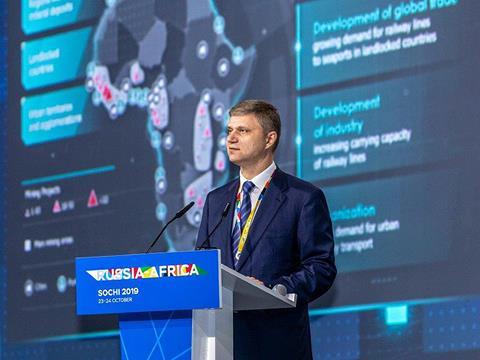 RZD CEO Oleg Belozerov emphasised the significant role that rail could play in supporting economic development.
'African countries are rapidly gaining leading positions in many social and economic indicators', he noted, suggesting that maintaining this dynamic and ensuring the quality of economic growth would be 'possible only by developing railways – this is evidenced by worldwide experience'.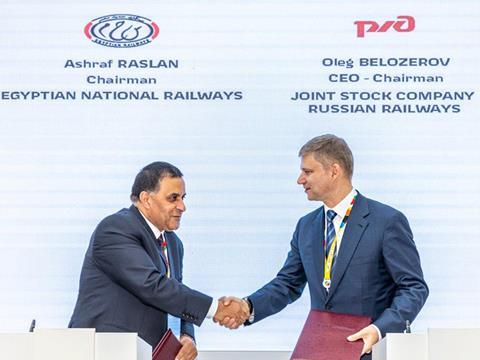 A letter of intent for rail infrastructure modernisation in Egypt was signed by Belozerov and Chairman of Egyptian National Railways Ashraf Raslan.
RZD is to study potential co-operation for construction of an Al Manashi – October 6 City line, development of an integrated traffic control centre, and various double-tracking projects. ENR staff could also attend training courses in Russia.
DR Congo's Minister of Transport & Communications signed a memorandum of co-operation with RZD expressing interest in the joint implementation of railway construction, rehabilitation and modernisation projects, as well as advanced staff training with the support of specialised institutes in Russia.
Belozerov signed a MoU with Nigeria's Minister of Transport Rotimi Amaechi in which RZD expressed interest in co-operating on the construction of a 1 435 mm gauge Port Harcourt – Maiduguri line paralleling the existing 1 067 mm gauge route. Russian participation in the 650 km Lagos – Calabar coastal line is also envisaged; earlier this year China Civil Engineering Construction Co was awarded a contract to build the central section between Port Harcourt and Warri.
Kirill Lipa, CEO of Russian rolling stock manufacturing group Transmashholding, signed a MoU with Amaechi to examine opportunities for the supply and maintenance of rolling stock, including the possibility of establishing a local assembly plant.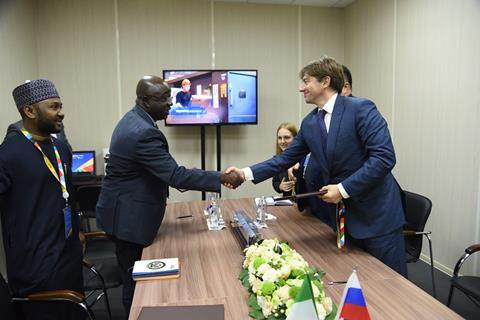 TMH also signed a MoU with Trans Continental Infrastructure Co covering rolling stock procurement and refurbishment and depot modernisation, and one with Emmanuel Agbadu Akabe, Deputy Governor of the state of Nasarava, covering co-operation in the construction of a Nasarava – Abuja line.
TMH International CEO Martin Vaujour said doing business in Africa requires companies to act like an investor, invest in long-term projects, help modernise existing systems and sign agreements with local investors to develop local business.
'Rolling stock for Africa should be designed and built in Africa', he said. 'Private capital should act like an investor and complement the state companies. We would like to find the proper balance between private companies and the state sector.'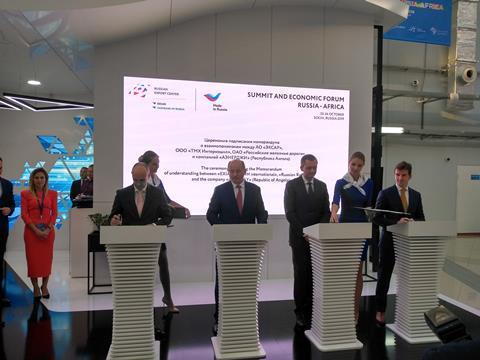 Aenergy of Angola signed a MoU with RZD, TMH International and Export Insurance Agency of Russia covering co-operation in development and funding of railway projects including the supply of rolling stock and upgrading repair capabilities including wheelset maintenance.
Ambitions for international railway corridor development were set out by Aboubaker Omar Hadi, Chairman of the Djibouti Ports & Free Zones Authority, who said the goal was build a railway linking Djibouti with Sudan and South Africa.